MAG M249 2500 Rounds Cartridge Pouch (Tan)
Written by ORCA
{simplegrade:5}
Manufacturer: MAG
Type: Electric Box Magazine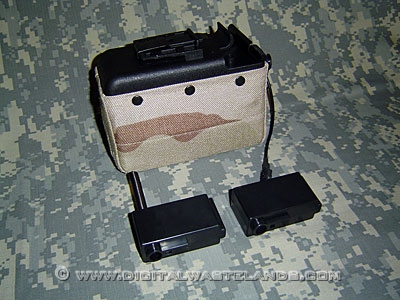 MAG M249 2500 Rounds Cartridge Pouch (Tan)

I was never 100% satisfied with the CA M249 Box Mag. Mostly because of size and it was hard to shoulder fire/aim with box mag in place. I decided to try the MAG M249 2500 Rounds Cartridge Pouch mostly due to size, and the fact it has a remote switch.

Mag Features:
Electric Winding

Side zip.

2500 Rds Capacity

100 Rds Style Compact size

Remote Switch

for TOP and CA M249 Series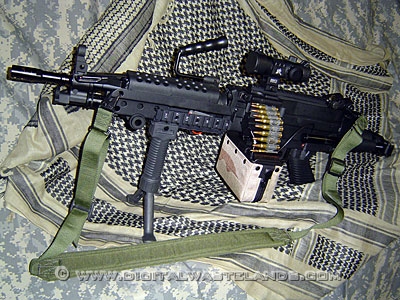 MAG M249 2500 Rounds Cartridge Pouch on CA249P
I picked this up from War4 Airsoft and with their typipcal great customer service I had the prodcut in 3 days. This mag is very well built and all feeding components on the mag are black so they disappear when the dummy bullets are added.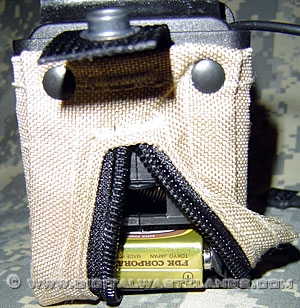 Unzip the pouch to access bb door and 9 bolt battery
This unit has a very long internal feed tude so make sure you load a few hundred rounds to prime the mag. Becaue of the "pouch" unlike other box mags the bb's are muffeled when rattled around. No more boxmag maracas! The mag motor has a low droning sound when activited. I setup the remote switch right below the safety so I can thumb activate teh mag motor.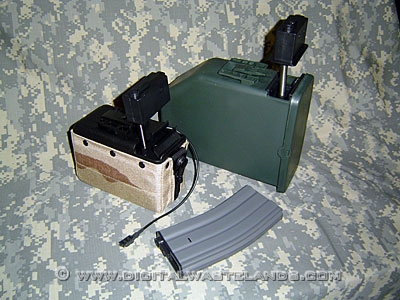 Size Comparison: HighCap 300 rnd, MAG 2500 round Mag/Pouch, CA 2400 RoundM249 BoxMag
This is a great alternative to the CA M249 Box Mag System. it's smaller but rated to carry more bb's. The attachement point on the MAG holds one of the dummy rounds by pressure so it keeps the whole belt tight. Less chance of the belt flying off like in the case of the CA's dummy round "loop"
Last Updated on Saturday, 03 February 2007 12:48