Tanaka - Model 700 A.I.C.S.
Written by ORCA
Manufacturer: Tanaka (Japan)
Type: Bolt Action Gas
Date Acquired: 11/2005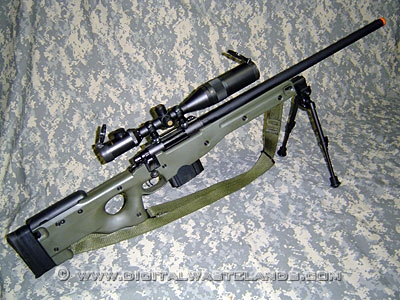 Tanaka M700 AICS

The Tanaka M700 AICS is a replica of Accuracy International's A.I.C.S. (Accuracy International Chassis System) on a Remington M700 This is not a replica of any of AI's, AW line.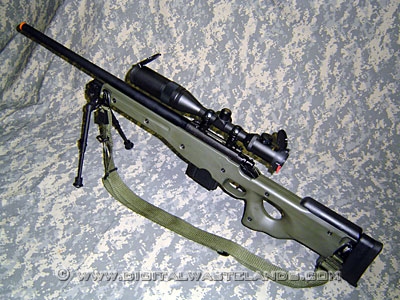 Tanaka M700 AICS

This is a gas, bolt action rifle and comes out of the box with very high fps. But unlike my Gen 1 M700 Police, the AICS come with the Power Control System (PCS) bolt. You can dial the system down in fps if you so desire. I'll post more later about the PS system. Performance is on par with teh other Tanaka M700. Bolt cycling is smooth and easy. Hopup is a very easy adjustment as with all Tanaka M700. The larger capacity magazine is a plus too! (That was my biggest gripe about the M700P)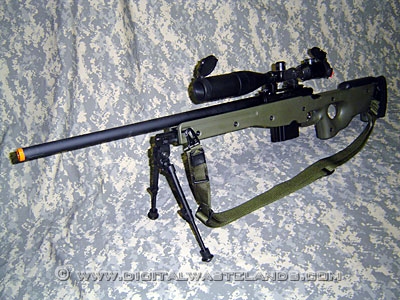 Tanaka M700 AICS

The appearance of this replica is awesome! I will be taking the AICS to a local large caliber gun store called ARM USA for side by side comarisons to a real AICS. The OD stock with black furniture gives the AICS a very mil/aggro look. There are no iron sights, so optics are needed.

Since I have another Accuracy Internationl replica, the Maruzen Type 96, modeled after the AI L96, I thought a comparison would be in order since more people have probably seen the Type 96: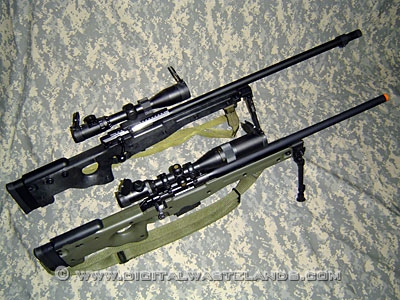 Maruzen Type 96 (Black) - Tanaka M700 AICS (Green)

For those of us hoping that the AICS can use some of the Type 96's bolt on accessories. Below is what I can confirm.

Interchangeable
Bipod mount.

Not Interchangeable
Laylax PSS96 Quick Cheekpiece Screw for APS Type 96
Maruzen Vanishing Silencer for TYPE 96
Maruzen Mount Base for APS-2 / Type 96
Laylax Flash Hiders/Silencer Adapters for Type 96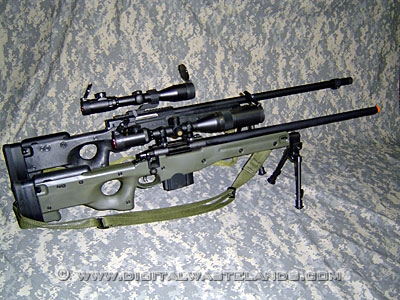 Maruzen Type 96 (Black) - Tanaka M700 AICS (Green)

I haven't figured out the PCS system yet, so FPS outta the box is below.

Chrono results (FPS)
Temp: 75° F 
Green Gas
.20 BB's
Min: 589.65.32
Max: 602.54.36
Avg: 598.36
Update 02/2007
I still haven't messed with the PCS yet.  Because of the weight and size of this specific weapon and the fact I'll probably never skirmish it, I haven't seen the need to mess with it yet.

Last Updated on Tuesday, 15 November 2011 08:45