Written by ORCA
{simplegrade:5}
Manufacturer: Kentex
Type: Watch
Hobby Japan/ ARM's Magazine created a line of Japanese Military Watches (The only real airsoft tie-in is ARM's Magazine). Just in time for the release of the Tokyo Marui Type 89
. They made a watch for each service:
JGSDF (Japan Ground Self Defense Force)

JMSDF (Japan Marine Self Defense Force)

JASDF (Japan Air Self Defense Force)
Each service has their own design. More info on the various designs here.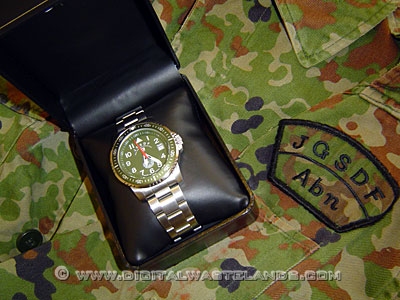 JGSDF Watch and BDU Set

The watch is made by a company called Kentex in Japan. They have been making mid range dive/sport style watches since 1994.
The JGSDF watch is an all metal band and sports the JGSDF Olive Drab on the face and bezel. Quality wise I think my Swiss Army Night Vision Urban Camo watch will outperform this watch though.
Last Updated on Saturday, 03 February 2007 10:52