Retailer - War4 Airsoft - Hong Kong
Written by ORCA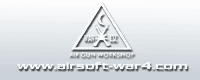 War4 Airsoft
{simplegrade:5}
http://www.airsoft-war4.com
Hong Kong
I thought I had come across a new Hong Kong based airsoft company, only to recently find out that War4 have been around for a while.
War4 is a reliable Hong Kong based airsoft retailer. Great service, fast turnaround. If they ever have a backordered item they are prompt in refunding to your paypal account if that's what you ask for.
Their websites functionaly and organization is a bit dated, but once you find the items you need it's easy to check out.
They are pretty strict with trademark removal on anything they ship to the US. They will not/advise against using temporary putty.
The also have members only discounts which they grant you acess to after a few orders.
Last Updated on Monday, 12 March 2007 05:19