G&P M16 Illuminated Tracer Magazine
Written by ORCA
{simplegrade:5}
Manfacturer: G&P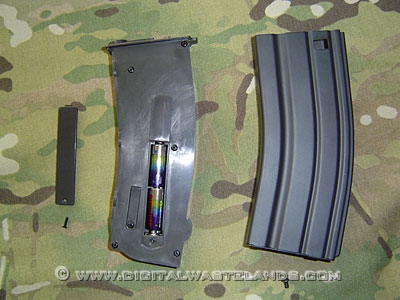 G&P M16 Illuminated Tracer Magazine
The G&P Tracer magazine uses an internal LED to charge light into special tracer BB's. I grabbed a few bags of Excel orange tracers and had an old bag of .12 green tracer rounds. Once you insert the magazine and lock it in the magwell, the LED is on. The longer your wait until you fire, the brighter the bb's will glow. The LED does a suprisingly good job of charging the special bb's with light.
One design flaw is the LED sit's up at the magazines' opening. If you try alternate rounds (i.e 1 tracer bb, 5 reg bbs, 1 tracer bb, 5 reg bbs, etc, etc) the regular bb's will block the LED's light from the rest of the tracer bb's inline in the magazine. It's best to laod the entire magazine with tracer bb's. Fortunatley there is no LED light externally visible when the mag is in place and on.
The unit ships with 3 "N" size batteries but can also be powered by 2 AAA batteries (Not confirmed yet).
The unit is supposed to take 130bbs, but it got difficult to load any more then 115. And.. I'm sad to confirm typical G&P weak spring. left 6-10 bbs in the mag, but no misfeeds.
Last Updated on Saturday, 03 February 2007 12:56