Tanaka - JASDF Sig Sauer P220
Written by ORCA
{simplegrade:3}
Manufacturer: Tanaka (Japan)
Type: GBB
Date Acquired: 07/2006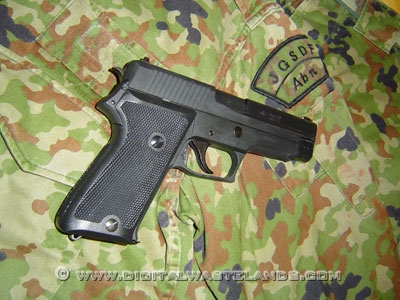 Tanaka J.A.S.D.F. SIG SAUER P220

I bought this Tanaka J.A.S.D.F.(Japanese Air Self Defense Force) SIG SAUER P220 to compliment my TM Type 89, and get closer to completng my J.S.D.F. loadout.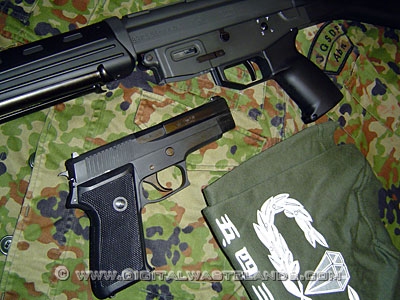 J.S.D.F. Family Shot. TM Type 89, P220, J.G.S.D.F. Modern BDU's, J.G.S.D.F./Iraq Ranger 1st Airborne Brigade T-Shirt.
I've been a huge fan and enthusiastic owner of the Tanaka M700 line and was hoping the TanakaP220 GBB would not dissapoint. The model is light in weight when compared to WA, TM and KSC stock GBB's. It's GBB performance is good, but because the gun itself is so light weight, not as impressive as WA, TM or KSC's on Green Gas.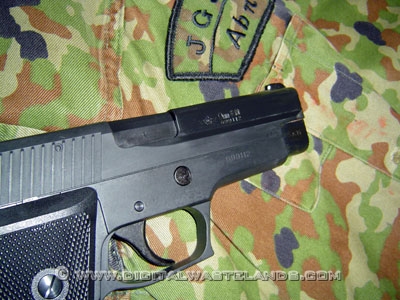 J.S.D.F. P220 right side markings.
This is a SA/DA handgun with working decocker. It uses a single stack style of magazine that carries only 12 rounds. The blowback action is crisp, but the magazine gas capacity is low. The markings are great and makes a great addition if you are going for a J.S.D.F. loadout.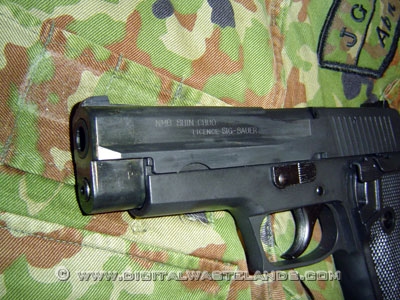 J.S.D.F. P220 left side markings.
If you already own WA, TM, KSC or KWA handguns, the Tanaka P220 will dissapoint in weight and performance. In fact if I knew it was this light I probably would have bought a TM P226 and waited for someone to come up with a Minebea P9 kit (The J.S.D.F. has adopted the P226 as its official sidearm, under license by Minebea as the P9).
It's a great gun for the collector, but for upgrades and skirmishing you'll do best looking at other manufacturers.

Last Updated on Friday, 23 March 2007 14:33