CAW - HK69A1 Grenade Launcher
Written by ORCA
Manufacturer: Craft Apple Works (Japan)
Type: Grenade launcher
Date Acquired: 09/2006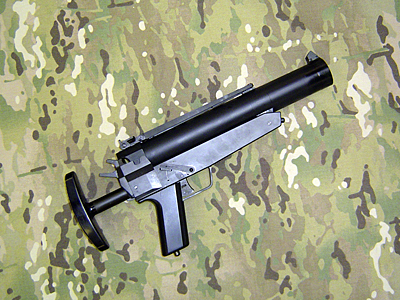 CAW - HK69A1 Grenade Launcher

The Craft Apple Works, HK69A1 Grenade Launcher is a replica of HK's stand alone grenade launcher. Real steel info here. It is a well distributed grenade launcher in Europe and was in the 1998 movie Ronin.
Since I recently came across the slug type of grenade, and the technological advancements they have made in their design, I've been hooked back on the 40mm type gas grenades. Check out the Grenade Collection post. I also would rather have a standalone launcher then always having to pull my M4 or G36 out.
The CAW, HK69A1 is a typical, CAW build. Very accurate replica, but uses a lot plastic/abs. I've also noticed a the trigger is not setup to handle the newer generation of grenades with harder internal springs. To fire my Madbull Slug grenade, you need to squeeze the trigger a couple of times before it triggers the grenade. It's has no problem firing Mosquito Molds grenades, but unfortunately, the new Classic Army grenade will not physically fit in this launcher (Too large in diameter).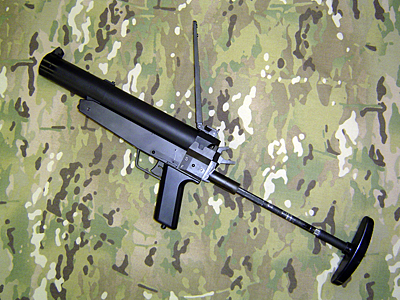 CAW - HK69A1 Grenade Launcher, Stock and Sight extended
This unit includes a sliding stock and grenade elevation sights. It's spring loaded breech loading, but unlike the US M79, you cannot "flick" the barrel into a closed/loaded position.
Update 01/2007
Some newer nades made by Madbull, CA or other Chinese mfgs, Have a hard time working with this launcher due to their harder piston springs.
Last Updated on Sunday, 24 October 2010 20:05