Army Code - 40mm Grenade Internal Upgrade Kit
Written by ORCA
Manufacturer: Army Code
Type: Internal Upgrade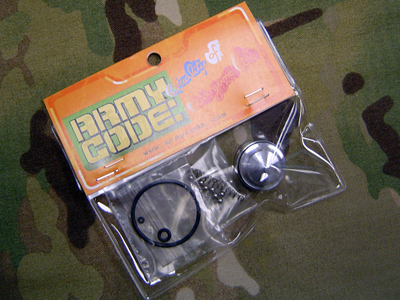 Army Code - 40mm Grenade Internal Upgrade Kit

Army Code - 40mm Grenade Internal Upgrade Kit is a internal parts replacement kit for Mosquito Molds 40mm grenades. This upgrade kit allows MM grenades to use higher pressure gas like green gas and make the grande reset process more efficient. This upgrade will work on Mosquito Molds 40mm Cartridge ( 24 / 40 / 78 / 165 / 180 Rds ). The upgrade includes Orings, New Piston, Higher Tension Spring and ball bearings. The piston is only to replace MM grenades with 12mm pistons.  A few of mine have only 8mm pistons.You may need special valve removal tools if you don't already have them.
The upgrade was very easy to install (with proper tools) and now my MM grenades are Green Gas capable and much easier to reset. A must have upgrade for MM 40mm grenade owners.
I will report back on durabilty as the nades get used more.
New Info 10/14/2006
All the MM nades I have, have now been upgraded to the Army Code upgrade kit.  Since MM nades were built around the weaker HFC134a gas, they have much larger gas capacity.  Now that they're green gas ready, they make a much louder BANG then even the newer designed CA or Madbull nades.  After about 40 reloads, the o-rings are holding up fine and these nades are still relativly easy to rest. (40 reloads lasted longer then most MM nades stock).  Still very impressed by the Army Code upgrade.
Last Updated on Friday, 18 September 2009 18:33