Written by ORCA
{simplegrade:5}
Manufacturer: Devgru (Korea)
Type: Electronics
The Devgru Frogman Headset is a replica of the Selex TASC1 Headset.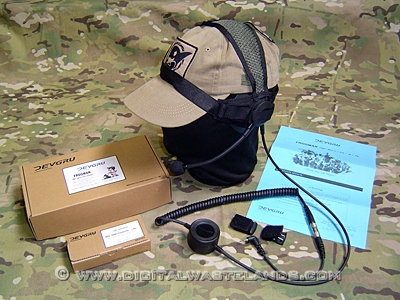 Devgru Frogman Headset

The Devgru Forman headset is a very well built piece of electronics. It includes a large button PTT which is easy to actuate with gloves on. It has a quick disconnect to allow for different connectors for different radio types. The Devgru package includes:
Frogman Components (boom mic, speaker, speaker enclosure, PTT)
Replaceable Headnet
Microphone Foam Wind Muff
Clamper Wiring Stay Clip
MOLLE Wiring Stay Clip
Manual (In English)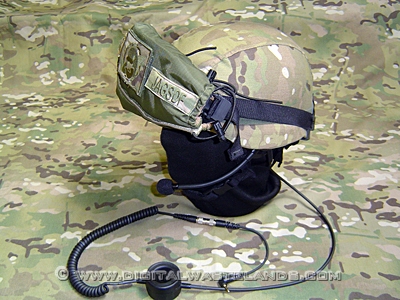 Devgru Frogman Headset Under Helmet
The build quality is high. Heavy Gauge Wiring, Coiled Remote, Large PTT, Bi-directional Microphone Microphone Wind Muff. More details below along with comparison to the Toy Soldier Swimmers Headset. Sound quality wise the headset has no problems. Even with the quick disconnect, there were no crackles or interference that could be heard. The mic is sensitive and will pickup very low noises.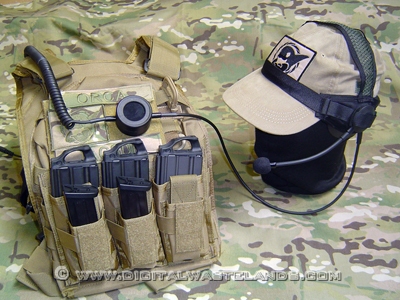 Devgru Frogman Headset - PTT with pre attached hook velcro
Devgru put some thought into some of the addition features included with this headset. PTT came with Hook Velcro already attached. The included "Clamper" and MOLLE style clip have Loop Velcro so the PTT can be mounted in almost any configuration. The coiled remote wiring helps keep the wiring in 1 place.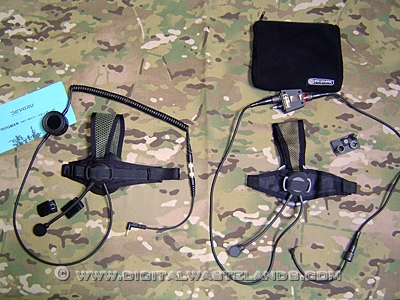 Left - Devgru Frogman Headset
Right - Toy Soldiers Swimmers Headset
There are a few differences between the Devgru and Toy Soldier headsets. Quality of parts used is a big issue. The ear cup of the Devgru unit is made of a soft pliable rubber. The TS headsets earpiece is a harder almost plastic ear cup Devgru also has higher quality materials used in the Headnet, Wiring and connectors.
| | | |
| --- | --- | --- |
| Feature | Devgru Frogman | TS Swimmers |
| Noise Canceling Mic | Yes | No |
| Water Resistant PTT | Yes | No |
| Replaceable Parts | Yes | No |
| Mic Wind Screen | Yes | No |
| Multi Radio Connectors | Yes | No |
| Velcro Clips | Yes | No |
| Carry Case | No | Yes |
| Quick Disconnect | Yes | No |
Last Updated on Saturday, 03 February 2007 10:54