Written by ORCA
{simplegrade:5}
Manufacturer: Tokyo Marui (Japan)
Type: GBB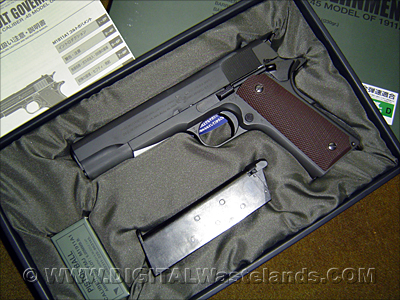 Tokyo Marui - M1911A1

I already own the Hi-Capa 5.1 and 4.3, so when TM released the M1911A1, I knew it would be another high quality reproduction from them.
The TM M1911A1 did not disappoint in reproduction quality. I got this 1 locally at AEX so I was pleasantly surprised on the "tasteful" defacing of the Colt Trademarks. The grip safety works correctly and slide mechanics are smooth.
Performance wise, it takes green gas no problem. Because this magazine is fashioned after a real single stack, gas capacity is limited, but I could easily cycle 1 full mags worth of bbs (About 25 rounds) per single gas charge. Accuracy is also impressive, even with the old style sights. Probably what TM means by "Hi-Kick, Hi-Grouping"
No doubt, as with all previous TM releases, a wealth of upgrades and add-ons will be on their way. I will probably leave this 1 stock though.
Chrono Results (FPS)
.20 BB's
Min: 301.27
Max: 318.44
Avg: 314.69
Last Updated on Tuesday, 02 June 2009 07:09