Tactical Tailor - Triple Pistol Mag Pouch, Multicam
Written by ORCA
{simplegrade:5}
Manufacturer: Tactical Tailor (USA)
Type: Magazine Pouch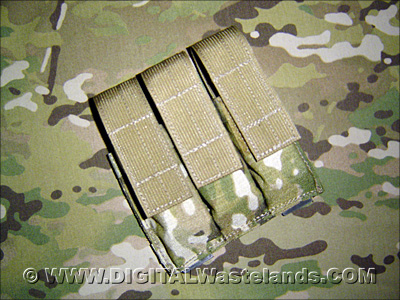 Tactical Tailor - Triple Pistol Mag Pouch, Multicam
I've had a few different brands of pistol mag pouches, Spectre, BHI, HSGI. I decided to look for a Multicam, multiple pouch system this time. I decided to try the Tactical Tailor magazine pouch system. These specific pouches come with a Kydex (thermoplastic acrylic-polyvinyl chloride) inserts which basically lock in most size magazines into the pouch. This mean you can use the pouches with or without the outer flaps, but the mag will stay securely in the pouch until pulled out.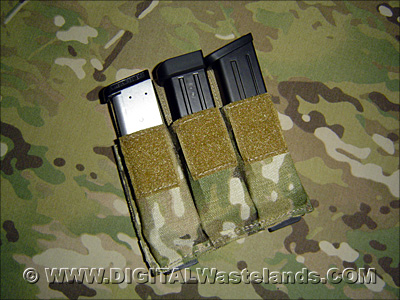 Tactical Tailor - Triple Pistol Mag Pouch, Multiple size mags no problem. left to right: WA Single Stack, TM Hi-Capa, KSC USP45.
These pouches come with MOLLE style webbing on the rear and include 2 MALICE clips for attachment.
Last Updated on Saturday, 14 April 2007 09:53