Retailer - Boom Arms - Hong Kong
Written by ORCA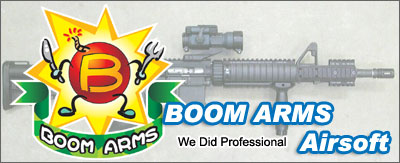 {simplegrade:5}
BOOM ARMS Airsoft
Hong Kong
BOOM ARMS Airsoft is not only a Hong Kong based retailer, but a Cafe. It's nice to do business with people who are actually into airsoft as a sport.
Quote: Boom Arms Website
Boom Arms Cafe is a great place for airsoft fans to sit and share their experience on airsoft, wargame, etc... We provide different kind of nice snacks and drinks for our customers, at the same time, they can have their love guns and gears on hand and play with them. Below are some snapshots of Boom Arms Cafe which show how enjoyable our customers are!
They've been around for years, but I've had some problems in the past with slow replies to orders. Fortunately they just recently released some new Bomber parts (I believe Bomber is BOOM ARMS own brand. Will confirm). And their replies were very quick.
I ended up ordering a Bomber Troy Sights, AK74 Wood Stock Kit and Element AK74 Metal Body. Paypal'd the order and received it in a day and a half (It seems to have bypassed customs all together). Excellent service and great quality, extremely affordable product.
Only gripes I have is sometimes they are a little slow to reply and their website get's laggy at times (Seems to be a web hosting issue). I will definitely order again.
Last Updated on Wednesday, 06 June 2007 04:09