Pelican - #1720 Weapons Case
Written by ORCA
{simplegrade:5}
Manufacturer: Pelican Case (USA)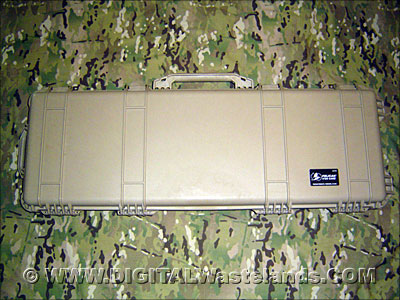 Pelican - #1720 Case - Wheeled Long Gun Case, Desert Tan
After my first Pelican #1600 Handgun Case I was definitely hooked on the Pelican brand and quality of work. I decided to get this #1720 case to carry multiple long arms. I was even happier to find out they now make these in OD and Desert Tan.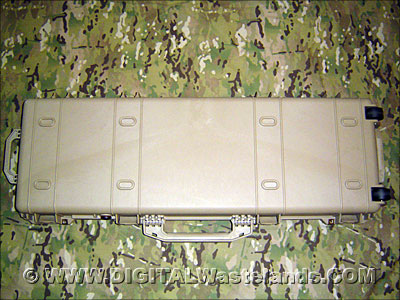 Pelican - #1720 Case - Backside

The cases specifications as follows:
Interior Dimensions: 42.00" x 13.50" x 5.25" (106.6 x 34.3 x 13.3 cm)
Watertight, crushproof, and dust proof
Easy open Double Throw latches
Open cell core with solid wall design - strong, light weight
O-ring seal
Automatic Pressure Equalization Valve
Fold down handles
Strong polyurethane wheels with stainless steel bearings
Stainless steel hardware and padlock protectors
Pick and Pluck Foam Inserts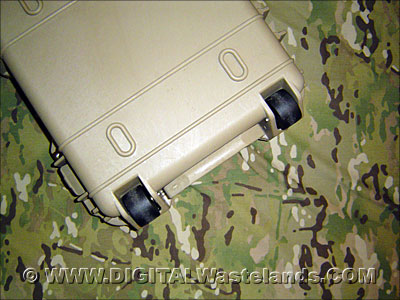 Pelican - #1720 Case - Polyurethane Wheels w/ Stainless Bearings
This generation of Pelican cases has a newer double throw, heavy duty latch system. Easy to open and close compared to my older #1600. The Desert Tan is darker and more drab then a traditional tan.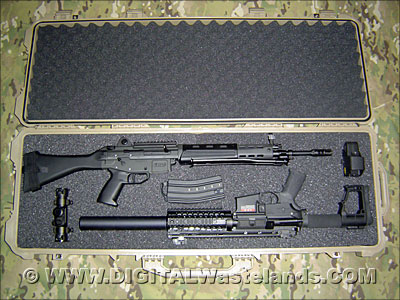 Pelican - #1720 Case - TM Type 89, TM M4 S-System and Accessories easily all fit.
At this point I'm still debating which mix of AEG's will use this case. But the case came supplied with Pick and Pluck foam, so creating custom cutouts for the weapons and accessories is very easy. Will post more pics as the decision gets finalized.
Like with the Pelican #1600, this case is on the expensive side, but quality and protection wise it's a good choice for my weapons.
 This case(s) will also come in handy on my Japan trip next month and in October ;)
Last Updated on Thursday, 05 April 2007 12:12