Oakley - S.I. Assault Boot - Night Camo
Written by ORCA
{simplegrade:5}
Manufacturer: Oakley
Type: Footwear
These are the Oakley S.I. Assault Boot in Night Camo. These were on sale on closeout at sportsmansguide.com for $39.97 a pair.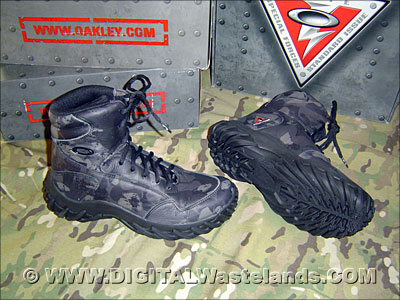 Oakley S.I. Assault Boot - Night Camo
These are built like the original S.I. Assault Boots with a leather upper and polymer soles, but in the Night Camo pattern. These are extremely comfortable to wear and at the price they were at are a great buy. My S.I. Assault Shoes I wear on a daily basis have lasted well over 2 years now. So if these boots hold up half as long...
Last Updated on Wednesday, 09 May 2007 15:11