Guarder - Rifle Rack for Long Arms 2007 Version
Written by ORCA
{simplegrade:4}
Manufacturer: Guarder (Taiwan)
Type: Rifle Rack for Long Arms 2007 Version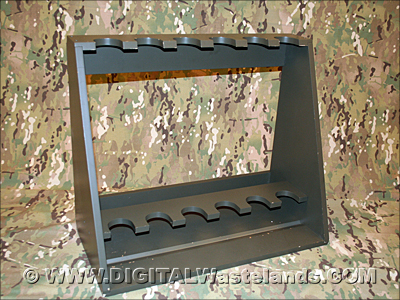 Guarder - Rifle Rack for Long Arms 2007 Version

The Guarder Rifle Rack for Long Arms, 2007 Version, holds 6 Long Arms vertically. I chose this over locally built rifle racks due to its' simplicity and the deal I was able to get locally.
Evike imported these and put them on sale for $99.00. You get free ground shipping for orders over $100.00, so this became an easy decision for me. Most vertical rifle racks built and sold in the U.S. will cost you $90.00 + $35.00 for ground shipping. But on my specific order, Evike did not actually have any of these new in stock. But they did have a used, floor model that was slightly dented and they sold it to me for $85.00 plus free shipping.