Trigger Happy - EBR CQB Kit
Written by ORCA
{simplegrade:5}
Manufacturer: Trigger Happy (Korea)
Type: Stock Conversion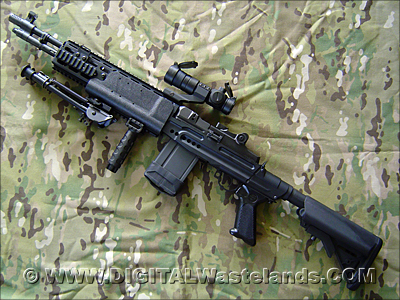 Trigger Happy - EBR CQB Kit on a TM M14 SOCOM
The Trigger Happy EBR CQB Conversion uses an M4 style buttstock over the Sage style buttstock. Since the intial release of the Trigger Happy EBR, GLock 17 Slide Sets and SF Silencer, I have been very impressed with the build quality of all their products to date.
The advantage of using an M4 style buttstock is you can use a battery capable butt stock. The EBR Conversion is already set to be rear wired, with holes and wiring pass throughs already ready for use.
I set this 1 up with a G&P crane stock. Helps keep the EBR from getting front heavy.
It was an easy installation like the first Trigger Happy EBR version. If you choose to rear wire it even an easier install since you only need to make 1 wire extension and use existing connectors..
Last Updated on Thursday, 02 August 2007 06:10