A.C.M. - M14 100 Round Midcaps (2 Pack)
Written by ORCA
{simplegrade:3}
Manufacturer: A.C.M. (China)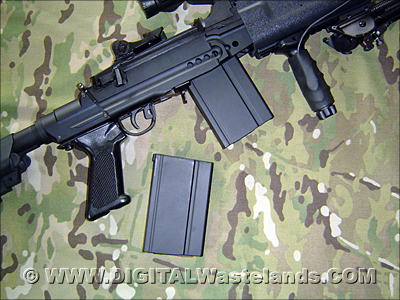 A.C.M. - M14 100 Round Midcaps (2 Pack)
I placed another small order with RSOV for some miscellaneous parts recently. I noticed he had a 2 pack of A.C.M. (All China Made) M14 Magazines that cost about $14.00 U.S. Had to check them out at that price.
The are all plastic magazines. But a very thick solid plastic was used. The magazines fit perfectly into 2 of my TM M14's unlike some other midcaps that have recently released into the market (i.e. no filing needed for fitting onto a TM M14). They look similar in design to MAG M4 Midcaps in that they have an access door on the magazines bottom to access the spring and follower. Unfortunately these have a weak spring installed, possibly even weaker then G&P magazine springs. In full auto with a 9.6 battery you will get results like:
bb

,

bb

,

no bb

,

no bb

,

no bb

,

bb

,

bb

,

bb

,

no bb

,

no bb

,

no bb

, etc...
And it will not feed the entire magazine. Already tried the silicon oil trick, but same problem It's a little better with the slower ROF of an 8.4, but it will still miss. At this time i cannot recommend these as a viable alternative to M14 magazine. Will keep working on them though and update if I can achieve any better results.