Retailer - DragonRed Airsoft - USA/China
Written by ORCA

DragonRed Airsoft
USA/China
Decided to give DragonRed Airsoft a shot. They advertise A.C.M. (All China Made) products, but with Local US Stocking/Shipping. But as I found out when I purchased they have a mix of what's stocked in the U.S. and what ships fm China. In my case the product shipped direct from China.

The DR website is pretty bad in it's build. Some products will actually go into their shopping cart, some go direct to Google or Paypal checkout. If they go direct to Google or Paypal checkout, those products are probably going to ship direct from China. If the item goes direct to google or paypal checkout look at the shipping price. If it seems high (i.e. $20 shipping on a $49.99 metal body) then it's probably shipping direct form china. When they ship from China add a day to what you would expect Hong Kong shipping to be.

I ordered some parts on Wed's early afternoon, and paypal'd immediately. Got a quick reply back from Charles as DR that the order would ship form China Wed evening our time. While a little skeptical it was nice to get such a fast response. 10pm Wed eve my time I get an email with tracking number that items shipped. Saturday items arrived! (It's nice how EMS and USPS work together and do Sat deliveries w/ no extra charge)

1 of the items I ordered was a newer generation $49.99 metal armalite body. The 1st gens were manufactured by D-Boys and as I posted before, there were tolerance/fitting probs. A new company, Sabre is supposedly using new die cast molds and is who is manufacturing these newer generation of cheap bodies. Hope to have time to install soon. I'll be installing on a TM M4 New Type.

So even though their websites on the crappy side in function, the customer service is top notch right now and the product mix is defiantly interesting.
Edit 09/2007
The VLTOR Body Pics:
For a $69.99 ($49.99 + $20 int'l shipping) it's not a bad deal. Qualtiy wise the body was OK. Trademarks are laser etched paint, so at some point they will rub off. These bodies seem to be G&G copies and they are pretty good spec wise. This is a "slide on" body and does not use the rear body tabs. Only problem so far is the fake bolt catches on the body. Should be an easy fix though.
Body kit includes:
Upper and Lower Metal Body
Charging handle w/ return spring
Ejection Port Door Mechanism
Magazine Release Mechanism
Body Pins
Selector Switch
Does NOT include:
You will need to get a upgrded hopup unit tht has an attached hopup feeder. I have the Systema which works fine.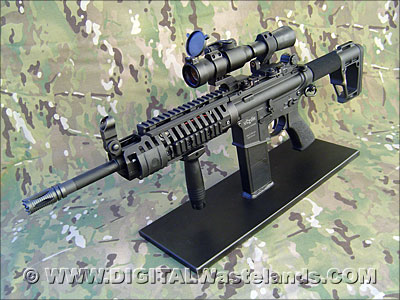 Last Updated on Tuesday, 04 August 2009 11:26