Pro Arms - M203 CQB Grip w/Light Mount
Written by ORCA
{simplegrade:3}
Manufacturer: Pro Arms (Hong Kong)
Type: Vertical Grip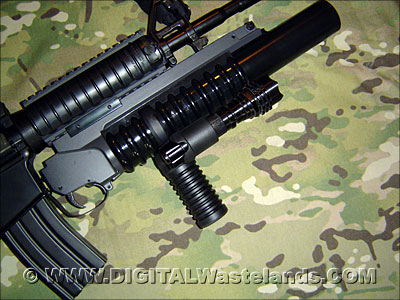 Pro Arms - M203 CQB Grip w/Light Mount
The Pro Arms - M203 CQB Grip w/Light Mount is a replica of one of RM Equipment's products called the M203Grip. The Pro-Arms replica uses a lateral pressure attachment system and attaches to 1 of the M203's fore grip ribs very securely.
It also comes with a Tactical Light attachment which can be mounted either side. The light attachment works with 1" diameter tactical lights with a tail cap screw on switch. Most metal Surefire's and clones will work. Surefire Nitrolons will not work though. There is a ridge in the light attachment where the tail cap pressure fits. The light attachment screws into the plastic of the vertical grip though, so if your not careful, you may strip the threads.
Does it aid in grenade loading or removing on an M203? For me no.

Does it look cooler then just an M203 by itself? Subjective.
Does it add more un needed weight to your AEG? You betcha.
Last Updated on Friday, 26 October 2007 17:10