Kreb's Custom - Fore-End Grip Adapter
Written by ORCA
{simplegrade:5}
Manufacturer: Kreb's Customs, (USA)
Type:External Body Add-on
I was a brief, proud owner of a GWS - Offset Vertical Grip, but fortunately Kreb's started production of a new and improved AK offset grip. Luckily I was able to score 1 too.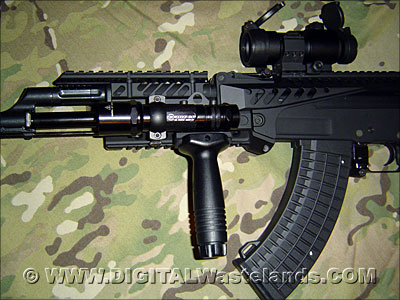 KCI - Fore-End Grip Adapter

This new Krebs version is just an offset, canted rail adapter. It also integrates a forward sling attachment point and liek teh original has a well desinged for use with a tactical light.
Like the orignal Krebs AK grip, the offset aspect of the grip allows for an AK-47 style magazine to be released and pushed forward for removal.
Last Updated on Tuesday, 08 January 2008 12:20