Tokyo Marui - MAC 10 Full Set
Written by ORCA
{simplegrade:4}
Manufacturer: Tokyo Marui (Japan)
Type: AEP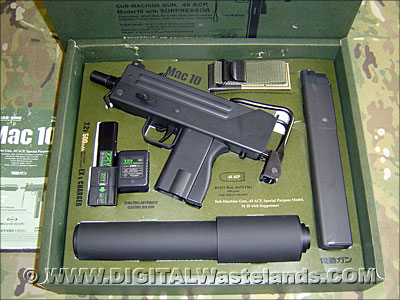 Tokyo Marui - MAC 10 Full Set

The Tokyo Marui - MAC 10 Full Set is the latest AEP (Automatic Electric Pistol) offering from Tokyo Marui. I've been impressed since the release of the VZ61 Skorpion in the build quality and attention to detail of these lower powered AEPs.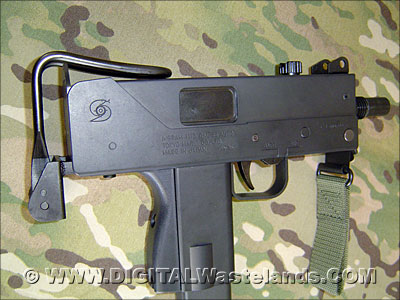 Tokyo Marui - MAC 10 - Trademark Closeup

The Mac 10 Full Set comes with the following:
Tokyo Marui - Mac 10 AEP
65 Round Magazine
7.2 volt Battery
Battery Charger
14mm thread protector
Front Hand Strap
Foam Filled Silencer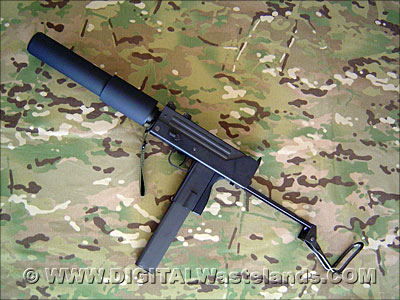 Tokyo Marui - MAC 10 - All Options Installed
But unlike the previous TM AEP, the VZ61 Skorpion that came with an all metal lower receiver, the TM Mac has only a few metal parts: muzzle, hand strap adaptor, magazine, trigger, safety switch and extendable stock. It's not that disappointing though since the Mac 10 itself weighs in at 3 lbs and with silencer and magazine over 5 lbs. A real MAC 10 weight 6 lbs unloaded.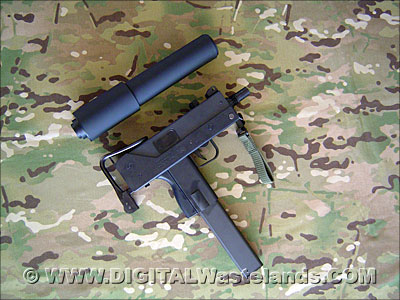 Tokyo Marui - MAC 10
TM designers again did an ingenious design job on how and where to access the battery. FPS results are similar to other TM AEP's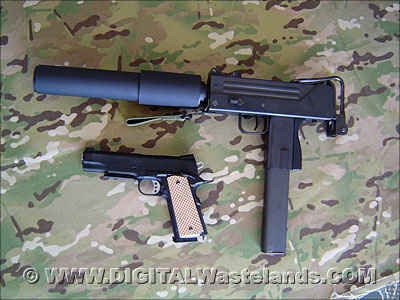 Tokyo Marui - MAC 10 - Size Comparison
Chrono Results (FPS)
.20 BB's
Min: 237.65
Max: 238.26
Avg: 237.81
Last Updated on Tuesday, 02 June 2009 07:07