Retailer - Den Trinity - Hong Kong
Written by ORCA


{simplegrade:5}
Den Trinity
Hong Kong

I have purchased a few airsoft guns from Den Trinity and many accessories:

CL Custom Neo G3 Shorty




Based on a Marui MC51 but with a full stock modified to accept a 9.6 battery. (Although it says CL, meaning their ex airsoft gunsmith, Clarence Lai, he has parted ways from Den for some time now.)
Den Trinity installed a 400fps Spring and Gearbox upgrade as well. I added a G&G R.I.S. Foregrip, G&G Tactical Flashlight, a few High cap mags, Guarder Scope Mount and Gaurder 3 Point Sling. Later I added a 42mm Simmons Red Dot Scope, Flip top scope covers and Bushmaster R.I.S. Rail covers I purchased locally to finish this setup. This rig was inspired by a custom gun built by a local Airsoft Retailer, Airsoft Extreme but mine is the "budget" version since I could piece the parts I really wanted and omit some of the pricier ones. From the time I sent them funds via Paypal this rig arrived at my door in 7 working days. Very efficient service!

The performance of this rig is awesome. It cuts soda cans in half and is VERY accurate.

Currently this is how the rig looks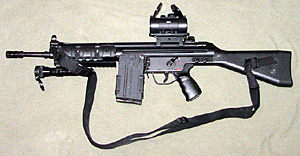 Marui AK47 Beita Spetnaz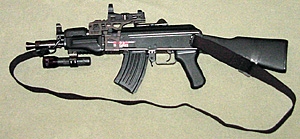 Then I wanted to get a good CQB medium range weapon and thought of an MP5 based rig, but decided on the AK Beita Spetnaz for the reliability and accuracy of the stock gearbox. I have kept the internals stock and added a JUST Scope mount, Spetnaz Sling, Scorpion Tac Light and Walther Red Dot Scope. Since this was a stock setup, it only took about 3 working days to receive this rig.
I had the good fortune to visit Hong Kong and paid Den Trinity a visit. Even though I feel the prices on the website are reasonable, I was able to haggle down the prices on the list of accessories which include a P90 Silencer, Tactical Vest a few drop leg holsters batteries and bb's. Probably due to the fact I paid in Hong Kong Dollars. Their shop is small by U.S. standards, but full of products. They build many custom parts (i.e. AK47 metal bodies, reinforced gear boxes, etc.) and seem to be the first Airsoft shop to get new high profile items from Japan. Den's prices are inline with other Hong Kong retailers, but I did notice their shipping prices always tend to be higher (Sometimes by $10.00 to $20.00).
One downside is Nelson, the guy who runs the shop is rather rude. It was better to deal with him over email to say the least. Their email replies are prompt and to the point and both pre and post service communication are good.
Last Updated on Monday, 12 March 2007 05:18