Written by ORCA
{simplegrade:5}
Manufacturer: Tokyo Marui (Japan)
Type: Gas Blow Back
Date Acquired: 02/2008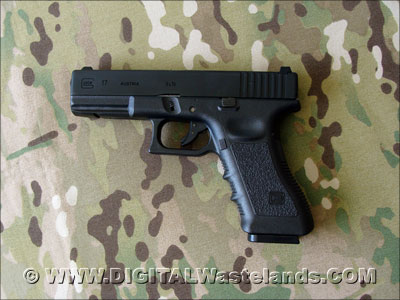 Tokyo Marui - Glock 17

As with all the other Tokyo Marui GBB's I own, the Glock 17 is to the same high standards as we've come to expect from TM. It's have mostly authentic trademarks, except for a TM/ASGK "Made In Japan" on the body. Unfortunately I bought this Glock locally in the U.S. so trades were defaced. So I added the Guarder Enhanced Full Kit for TM G17.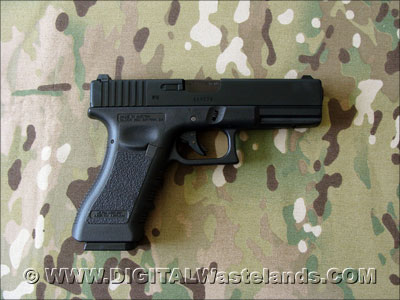 Tokyo Marui -Glock 17
The Guarder Enhanced Full Kit for TM G17 is a pretty straight forward install, but needs some filing for the slide to cycle smoothly. The kit has full trademarks and includes:
Fiber Reinforced Polymer Frame
Aluminum Slide
Steel Outer Barrel
Recoil Spring Guide
150% Hammer Spring
Steel Magazine Catch
Steel Trigger Lever
Serial Number Plate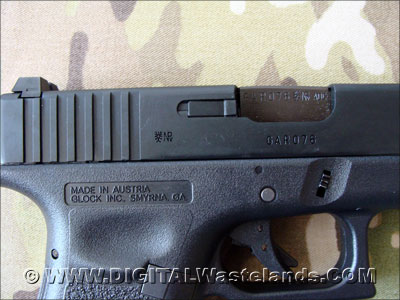 Tokyo Marui - Glock 17 - Close up of Trades

With the kit installed, the TM Glock feels very close to its' real steel counterpart. While usually installing a metal slide causes a decrease in ROF, the Guarder kit has a nice balance of weight and has only effect slide cycle speed a little.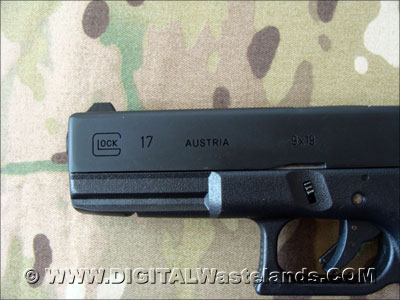 Tokyo Marui -Glock 17 - Close up of Trades

Chrono results (FPS)
Green Gas
.20 BB's
Min: 283.30
Max: 291.23
Avg: 284.94
Last Updated on Tuesday, 02 June 2009 07:08