CREE - Q5 LED Tactical Light Bulb Assembly
Written by ORCA
{simplegrade:5}
Manufacturer: CREE
Type: Tactical Light Replacement Bulb Assembly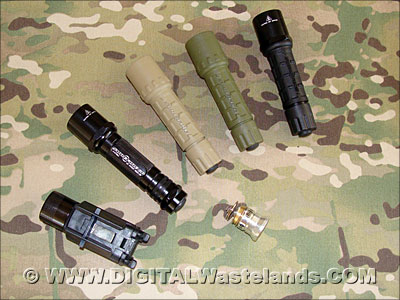 CREE - Q5 LED Tactical Light Replacement Bulb Assembly
I kept coming across these LED Bulb assemblies on Ebay. I already own an Inova T2 LED and Surefire G2 LED and have been more then happy with their performance.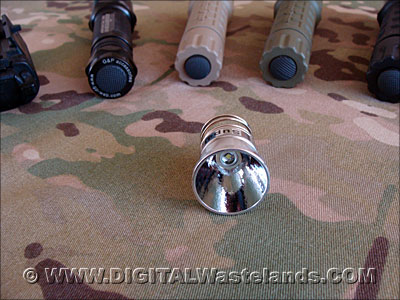 CREE - Q5 LED Tactical Light Replacement Bulb Assembly

These assemblies go for about $20.00 shipped from Hong Kong and claim a 270 lumen output, it was an affordable experiment waiting to be paypal'd.
Received the LED assembly about 5 days after payment. The assembly comes with 2 contact springs. The large outer one may need to be removed to fit into some lights. But it's a drop in fit. This assembly fit and functioned in all my Surefire G2's and 6p's as well as my G&P Surefire clones.
So is it really 270 Lumens??? I fitted the Q5 into 1 of my Surefire G2's and plopped new CR123a's on all lights (Gah...exspensive). Lights were about 15 feet from wall.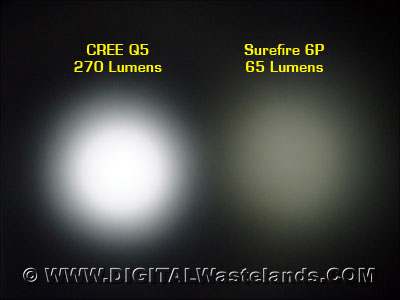 CREE - Q5 vs. Surefire P6 Incandescent
Definitely an affordable option for those who already own incandescent tactical lights. Lumen output is very impressive. Will report later on battery life and durability.
EDIT 04/2008
I ended up buying 3 full lights, that use this same bulb assembly for my shop. All metal fabrication, but not a Surefire compatible body. Although you can still swap the bulb assemblies around.
Last Updated on Sunday, 11 May 2008 10:24