Magpul PTS - Metal Body (FDE)
Written by ORCA
{simplegrade:4}
Manufacturer: Magpul PTS
Type: Body Add-ons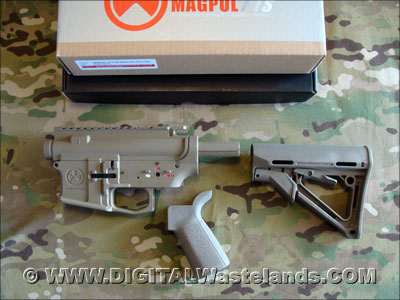 Magpul PTS - Metal Body

I was fortunate to attend the 2008 Shotshow in Las Vegas and got to meet the Magpul people directly. Great guys and innovative affordable products. Of course my biggest interest was their Magpul PTS (Professional Training & Simulation Division, a.k.a. airsoft) product line.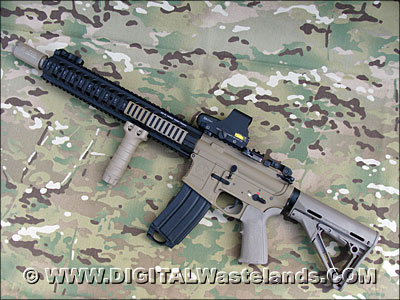 Magpul PTS - Metal Body Installed with Fixins'
Items in these build include:
Magpul PTS - Metal Body (FDE)
Magpul PTS - MIAD Grip, 1st gen (FDE)

Magpul PTS

- CTR Stock (FDE)
Magpul - Ladder Rail Covers (FDE)
Tango Down - Battle Grip (FDE)
King Arms - Troy BUIS
Proud - KX3 (Tan)
Tokyo Marui - M4 Carbine New Version Internals
G&P - Ambi Magazine Release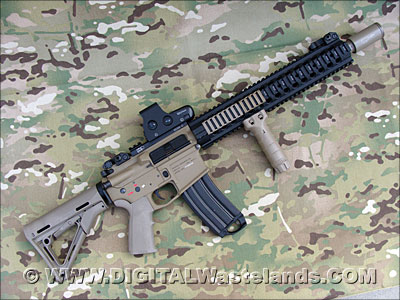 The Pros
The body itself is a beautiful build. A slightly textured, tactile Flat Dark Earth coating. The body has clean fire control markings and unique serial number. All logos are stamped into the metal. The FDE color is close to other Magpul FDE components, but still not a dead on match due to materials being coated.
The Cons
I originally wanted to use a CA Sportline as the internals, but the CA Sportline gearbox shell, had a bit too much material in on the rear of the gearbox and thus would not fit. Body pin and trigger pin holes would not line up. I got another TM M4 Carbine (New Version) to use as this AEG's internals. The TM gearbox needed to have a highpoint in the spine dremelled off, but it ended up fitting, but it was a very tight fit. The supplied dust cover would not close all the way when the gearbox was installed and fake internal bolt plate would bind the hopup in place. Luckily I had enough spare parts to fix these problems, but this wasn't an "easy" body swap to say the least.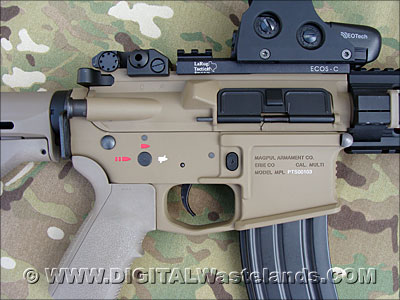 Update - 03/2009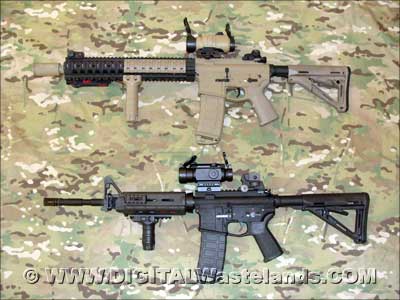 Magpul PTS - Metal Body FDE + TM M4 -Top. Black + CA Sportline Bottom
Last Updated on Sunday, 22 March 2009 14:33