Retailer - Wargame Club (aka WGC) - Hong Kong
Written by ORCA


{simplegrade:5}
I have purchased many airsoft guns and accessories from Hong Kong and locally here in California. I have been very fortunate to have met an dealt with some great people and purchased some great airsoft products and services. In most cases Japan will not ship airsoft directly to the U.S. and precautions have to be made for Hong Kong retailers to sell to the U.S. because of U.S. Gun Control Laws and Manufacturer Copyrights.

Wargame Club
Location: Hong Kong

I have purchased 1 AEG from Wargame Club and many accessories:

Marui G3/SG1 (See review for more detailed info)




I ordered this gun from Wargame Club (WGC) and had them add; 450fps spring and gearbox upgrade. The upgrade they installed was wonderful and this gun has great accuracy and distance plus full auto capabilities. I added a Marui scope mount, HK Sling and Rubber Armored X40 Scope.
From the time I sent them funds via Paypal this rig arrived at my door in 5 working days. Very efficient service!

Currently this is how the rig looks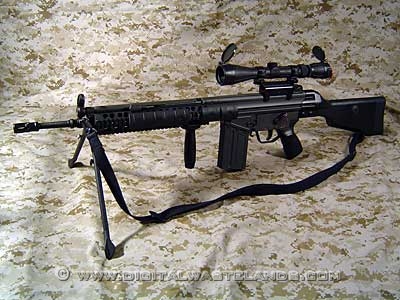 I have purchased a few airsoft weapons from Wargame Club and many accessories.

I have lost count of how many orders I have placed for accessories from WGC, but there have been many and each one gets to me in 2 to 3 days after sending them money. I now seem to place all my orders for airsoft accessories and replacement parts to WGC.

Their website is simple but easy to navigate for the amount of items they list, their shipping costs are very reasonable and have a very good selection of parts. They may not be the first to carry custom parts from Japan, but when they get them you can be sure they have them in stock. I have been able to repair many AEG's and Gas Guns due to the fact WGC offers all the spare parts needed.

Their email replies are prompt and pleasant and both pre and post service communication are good. They are also the most patient and reasonable of airsoft retailers. There has been more then 1 occasion where I needed to change an item in an order after I sent money and right before they shipped the product, but they were happy to help in all situations.

WGC offers alot of Custom Rigs with some interesting variants of AEGs. They also offer a great selection of beginners packages. They seem to be very sensitive to what people who play airsoft need. Although they don't offer the high ticket items like Den Trinity does, they seem to have a good mix of offerings to cover the beginner to the advanced airsoft player.
Edit 1/2007
I'm still purchasing regularly (almost monthly) from WGC. They haven't screwed up any orders at all. The end of 2006, they sent a nice Christmas suprise: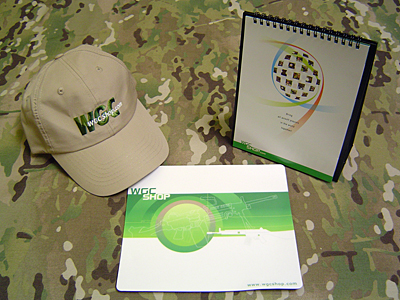 WGC Cap, Calendar and Mousepad
The WGC Cap and Mousepad are pretty self explanatory. The Calender is neat becasue they took pics from their customers around the world and added them to each month. WGC is a class act among airsoft retailers!
Last Updated on Monday, 12 March 2007 05:19