Original SOE - Mookie War Rig - Light - Desert Brown - Front
Written by ORCA
Manufacturer: Original S.O.E. Gear (USA)
Type: Chest Rig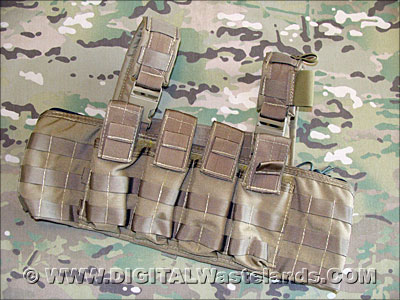 Original SOE - MWR-L - Desert Brown - Front
Every geardo at some time will have to own something created by John Willis and this was the time for me to get the Mookie War Rig - Light. AEX recently got a limited run of these chest rigs in stock.
The original MWR was custom developed for direct action warfare for some Navy SEALs and private contractors. This Light version of the MWR is perfect for rapid deployment and low profile usage (can be worn under a jacket) and is much more comfortable and lightweight.
The MWR-Light features:
4 x single magazine pouches with adjustable flaps
In addition to being adjustable to fit everything from an M4 mag with Magpuls to an AK mag, the removable pouch flaps are Velcro and snap secured and have built in speed pull tabs
Side PALS webbing to fit accessory pouches or more mag pouches as needed
Quick release padded shoulder pads for comfort and fast egress
Elastic tube on right shoulder strap for hydration tube or comm system wire routing.
Double layer construction
Zippered main compartment pouch with internal PALS webbing that can be used for an internal pistol holster like the Eagle G-Code or Blackhawk CQC holster.
Available in MULTICAM, FOLIAGE GREEN, and DESERT BROWN.
Can attach optional OSOE hydration carrier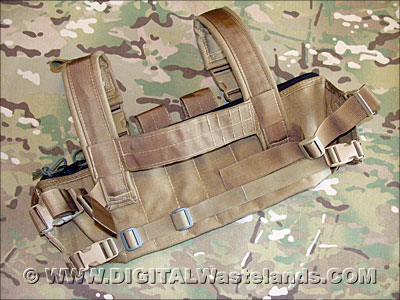 Original SOE - MWR-L - Desert Brown - Front
Original SOE (Special Operations Equipment) is a long-time maker of custom tactical gear based in San Diego. John Willis deigned gear is well-known in the special operator community and among civilian tactical shooting enthusiasts for being very well-built and extremely rugged. His gear has been featured in publications and was highly featured in ARMS Magazine (the largest Japanese airsoft/gun magazine) for many years.
Last Updated on Friday, 18 September 2009 09:16