Full Clip USA - Dump Pouch - Multicam
Written by ORCA
{simplegrade:5}
Manufacturer: Full Clip USA (USA)
Type: Ammo Dump Pouch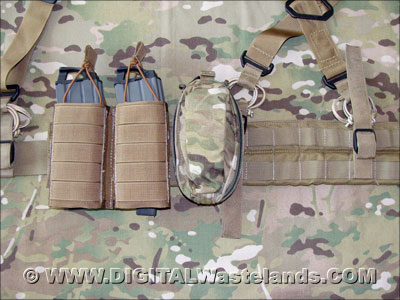 Full Clip USA - Dump Pouch - Multicam
This is 1 of the neatest gear ideas I've seen in a while. I saw it a few months back in its' "prototype" phase and am so happy to see them finally released. This is an AEX exclusive.
"So it looks like a Dino Egg in MC... What's the deal?" ORCA said...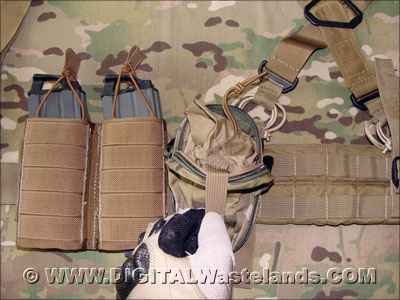 Full Clip USA - Dump Pouch - Multicam (Step 1)
With a pull on the easy to grasp middle webbing tab, and you will see both opposing zippers on each side unzip.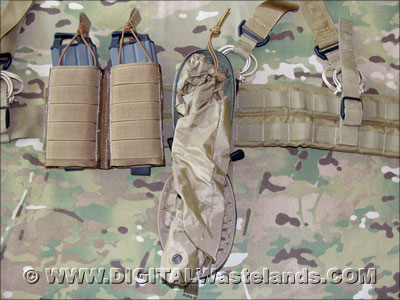 Full Clip USA - Dump Pouch - Multicam (Step 2)
You'll now notice a good sized nylon bag unfurl.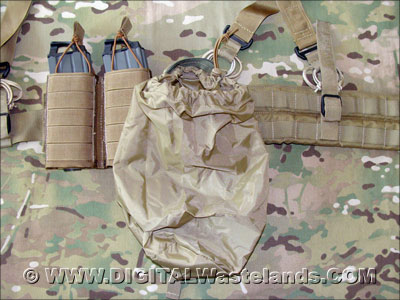 Full Clip USA - Dump Pouch - Multicam (Step 3)
And voila! I lightweight, fast deploy, small footprint dump pouch. Genius! This is mounted on my Tactical Tailor Modular Padded Belt, but can easily be mounted on any PALS compatible webbing setup.
Bruiser @ AEX's description (He's a much better writer then I)
AEX introduces the new and highly unique Full Clip USA Dump Pouch. 100% Made in USA with authentic Multicam®.

The Full Clip USA Dump Pouch is a totally new, highly innovative, and unique design. When not in use, it is highly compact (only 7inches long by 2 inches wide) and takes up only 1 row of PALS webbing on a vest. To deploy, just pull down on the quick release tab and the 2 side zippers silently and stealthily opens to reveal a pouch with enough capacity to hold a 2 liter soda bottle or MANY spent magazines. There is a heavy duty reinforced grommet hole at the bottom of the pouch to allow sand or water to pour through and an elastic cinch band around the opening to allow you to secure what you are carrying in the dump pouch. When you don't need it anymore, just roll up the pouch, fold it into the nylon clamshell, and pull up the zippers on both sides. Just make sure to expose the quick release tab at the top for rapid redeployment.
At this time these are only available at AEX.
I received a couple of questions on the dump pouch, from user Talon 0315 on Arnie's.
Q - How many AR mags can the dump pouch hold panic-shoved?
A - Don't know about "panic-shoved" but max capacity is 17-19. Hope that gives you an idea of how many in specific circumstances.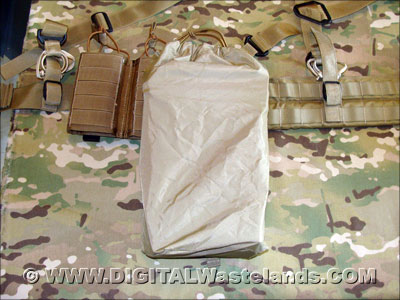 Full Clip USA - Dump Pouch - Loaded with 17, M16 style Magazines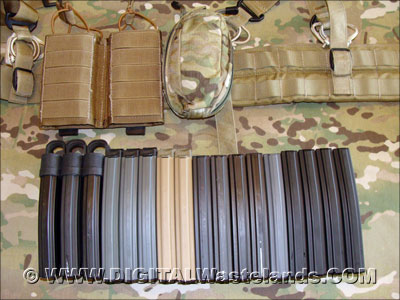 Full Clip USA - Dump Pouch - Loaded with 17, M16 style Magazines. Note some magazines had Magpuls and these are all metal midcaps, so total weight was about 8 lbs of magazines.
Q - Did it come with MALICE clips?
A- No, it has an attached PALS strap. You can just tuck it away if you want to use MALICE or BHI Speed Clips no problem.
Q - How secure was the top of the deployed pouch - could you run around without fear of losing magazines?
A - Elastic drawstring and pressure fastener. Nothing should fall out when running around. But this will all depend on the situation.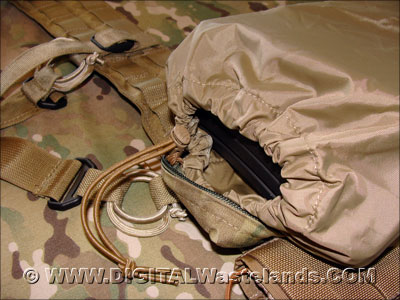 Full Clip USA - Dump Pouch - Top Fastener View
Last Updated on Friday, 18 April 2008 01:31