Written by ORCA
{simplegrade:3}
Manufacturer: Fabrique Nationale Herstal (USA)
Type: Holographic Reflex Sight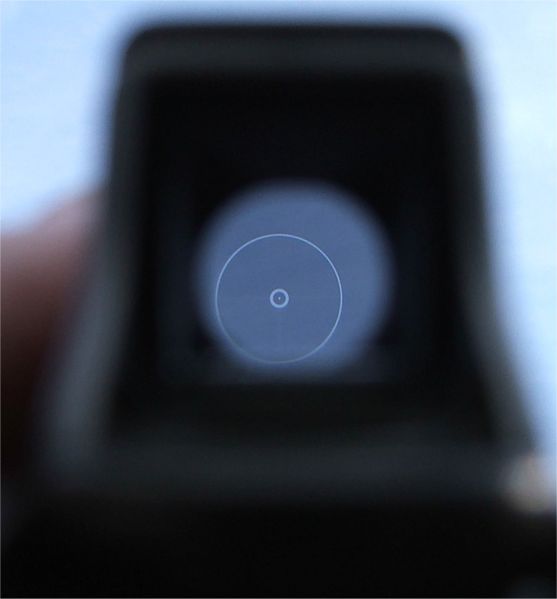 FN P90 Reflex Ring Site - Picture from Wikipedia
The early Real Steel, FN P90's shipped with a White Ring Reflex Sight. It's a holographic reflex sight with white rings and Black "T" reticle. This sight in non powered and uses and ambient light source to illuminate the reticle. Needless to say, this sight not very useful in low light situations.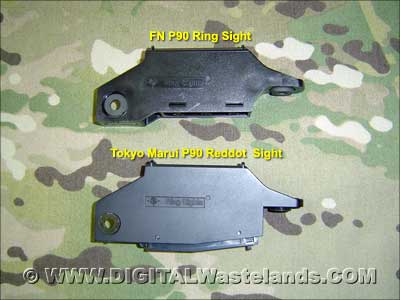 FN P90 Reflex Ring Site - Comparison to TM - Left Side
So why get 1 of these Real Steel Ring Sights? Well to be different then all the TM P90's with their Counter Strike Style red dots.
This is almost a virtual drop in replacement for the TM Red dot sight. You do have to file down a nub on the left side of the FN Sight, but no other mods other then that. You reuse the 2 TM Sight Mounting screws and the new sight is in.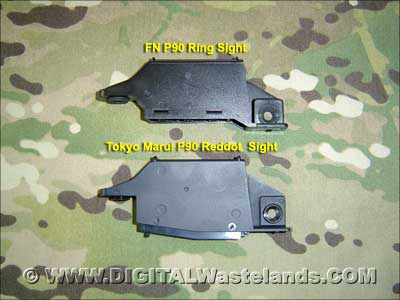 FN P90 Reflex Ring Site - Comparison to TM - Right Side
You can find these for sale due to most Real P90 owners are swapping up to the Triple Rail or an easier to use sight system. FN has discontinued shipping P90's with the White Rings for Black Rings sites, which are supposed to be easier to use.
This is a great add-on, to make your P90 stand out, and it's nice you can swap out optics relatively easily if needed.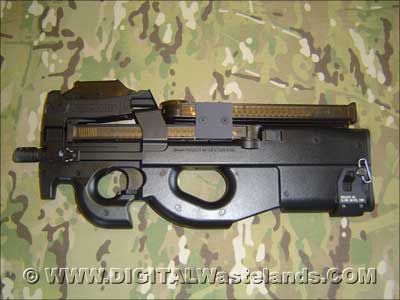 Last Updated on Sunday, 17 August 2008 06:41