HL1-A-TN - Helmet/Weapon Light
Written by ORCA
{simplegrade:4}
Manufacturer: ACM
Type: Helmet/Weapon Light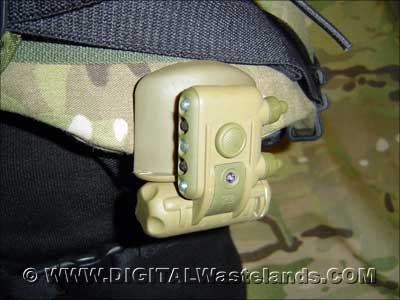 HL1-A-TN - Helmet/Weapon Light
This is a clone of the Surefire HL1-A-TN Helmet Light System. Ebaybanned put these on sale for $19.95 including international shipping, to apologize to their regular customers for some shipping delays.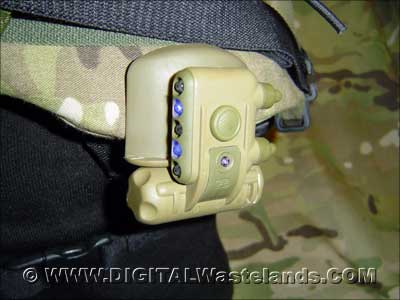 HL1-A-TN - Helmet/Weapon Light

The build is OK., definetly NOT Surefire quality, but passable for the price. The unit runs off 1 CD123A Lithium battery. This unit by no means compares with a Surefire P60 tactlight in lumen output. The LED's on this unit are for personal illumination and IFF identity.
Switch operation as follows:
Upper Switch

Toggle Up - 3 White LED's
Toggle Middle - Off
Toggle Down - 2 Blue LED's

Lower Switch

Toggle Up - Side IFF LED
Toggle Down - IFF Off

Side Push button

Controls 3 levels of brightness on front LED's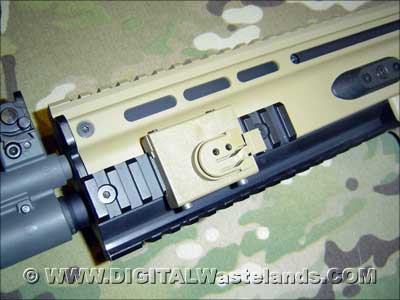 HL1-A-TN - Helmet/Weapon Light RIS Mount
This unit shipped with:
Helmet Mount
R.I.S. Mount
Cap Bill Mount
The RIS mount was a nice addition, but with the low level light output of the LED's, I'm not sure how effective rail mounting this system is. But this unit is low profile enough to be mounted on an upper M16 rail and sights can still be used.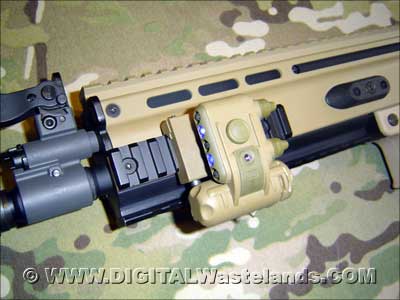 HL1-A-TN - Helmet/Weapon Light RIS Mount