Written by ORCA
{simplegrade:5}
Manufacturer: Tokyo Marui (Japan)
Type: Gas Blow Back
Date Acquired: 09/2008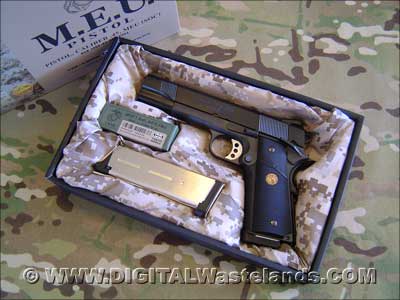 Tokyo Marui - M.E.U.

The Tokyo Marui M.E.U. is a replica of the Marine Corps armorers of the Precision Weapons Section (PWS) 1911 they build for the Special Operators in the Marine Corps.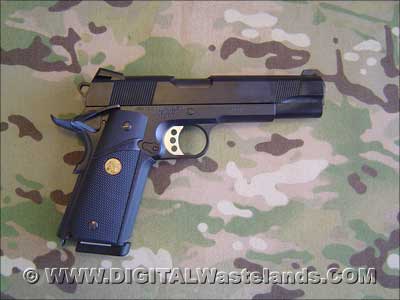 Tokyo Marui - M.E.U.
As with most TM GBB's, the M.E.U. has a high quality build and is a great performer straight out of the box. Handles Green Gas no problem. Most parts are TM 1911 compatible/interchangeable.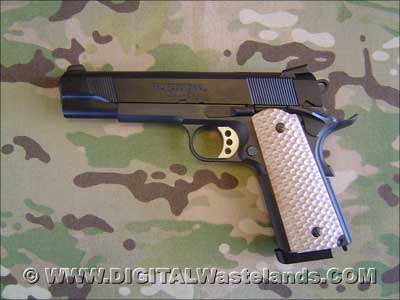 Tokyo Marui - M.E.U. with Gunner Coyote Grips.
I added the Coyote Brown, Simonich Gunner Grips to act as an alternative setup to my Western Arms MARSOC. This decision was based solely on how well supports TM guns are compared to WA, if I choose to upgrade anything later.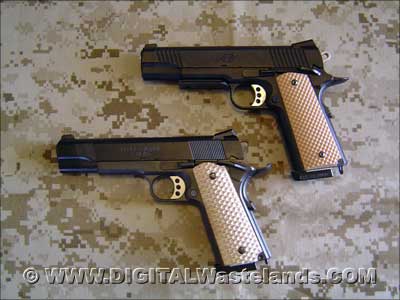 Tokyo Marui - M.E.U. Western Arms MARSOC Comparison
Chrono results (FPS)
Green Gas
.20 BB's
Avg. 329
Last Updated on Tuesday, 02 June 2009 07:08