Classic Army - P90TR Sportline
Written by ORCA
{simplegrade:4}
Manufacturer: Classic Army (Hong Kong)
Type: AEG (Automatic Electric Gun)
Date Acquired: 10/2008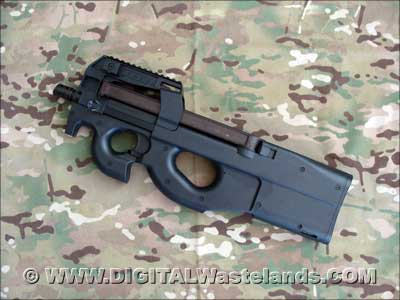 Classic Army - P90TR Sportline

Spartan Imports was kind enough to send me down a Classic Army P90TR, to take a look at for review. My first AEG was a Tokyo Marui P90 originally bought for me by a friend in 2001. The TM P90 has functioned flawlessly since 2001, never having any problems and still shooting as strong today as 2001. So I've been interested to see how the CA P90 series performs.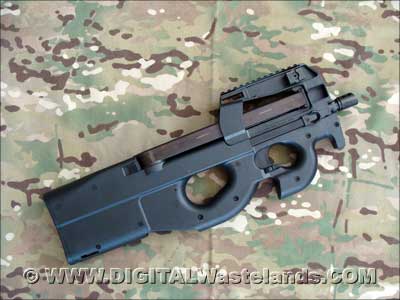 Classic Army - P90TR Sportline
The CA - P90TR is in the Sportline Series and this specific one Spartan Imports sent, was their Value Package, which includes: battery, charger, shooting glasses and bb's. These retailer from AEX for $170.00, so not a bad deal for a starter AEG package.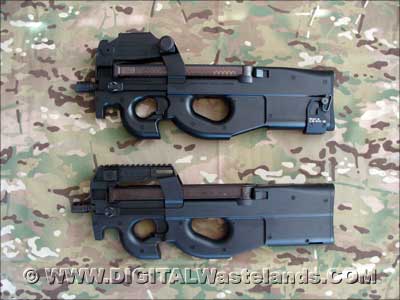 Tokyo Marui - P90 (Top) Classic Army - P90TR Sportline (Bottom)
Being a long time happy owner of the TM P90 it will be hard not to do some direct comparisons, so let me get some out of the way. But please keep in mind that the CA Sportline series is their budget line, so direct differences to TM in some cases are due simply to that.
| | | |
| --- | --- | --- |
| | | |
| Weight | | |
| Barrel Length | | |
| Included Mag | | |
| Battery Type | | |
The color of plastic used on both CA P90's is close to the black used on the TM P90 RDS. The texture is rougher then the TM plastic though. Also you can feel the body seam that runs down the entire length of the CA P90. The body also flexes slightly compared to the TM.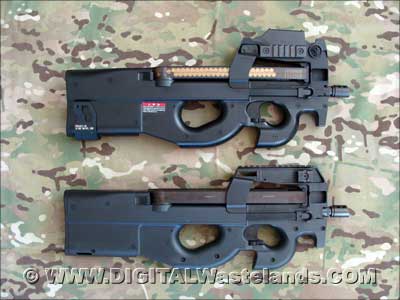 Tokyo Marui - P90 (Top) Classic Army - P90TR Sportline (Bottom)
As I've noticed/reported in the past all CA Sportline's (M4's, MP5's, AK's) I've test fired, make an audible "boing" sound when fired in semi auto. Seems to be something common with all Sportline internals. But their ROF is good and 310-320 fps is great for an "out of the box" P90. The 300 round high cap mag supplied by CA is a better performer then the TM P90 High Cap. 1 full wind of the CA P90 High Cap will power almost the entire magazine. Only time will tell on durability though.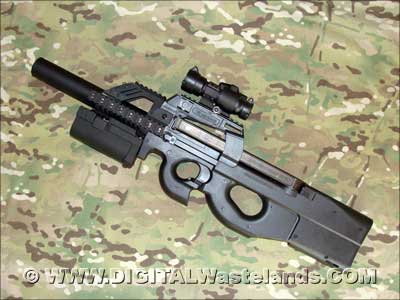 Classic Army - P90TR Sportline
Of course I couldn't just leave the CA P90TR stock. The CA P90 takes most parts made for the TM P90 so far. Added the following mods:
NitroVo - P90 Rail
KM/Head 1950 - Light Weight (245mm, 14mm+/-) Silencer
Mosquito Molds - Mini Launcher
AMP Tactical - AP Reddot
Knight's - 30mm "L" mount
Last Updated on Saturday, 08 November 2008 13:26