Written by NewAziel
Manufacturer: Magpul-PTS
Type: Stock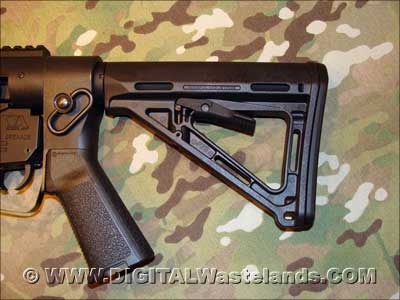 Magpul - M.O.E. Stock

The Magpul - PTS M.O.E. Stock, is a replica of Magpul's new "Magpul Original Equipment" line.
MOE is Magpul's newest line of firearm accessories. Intended to be a low-cost, high-quality alternative to standard weapon components, MOE will be offered to manufacturers as OEM equipment, and to individuals seeking Magpul quality in their basic equipment upgrades. The MOE™ line distinguishes itself with a simplified feature set, but maintains Magpul engineering and material quality.
While the MOE stock resembles the CTR stock, it's missing the friction lock and QD swivel attachment point. But the MOE stock comes with the rubber butt pad that's an extra item to buy on the CTR stock.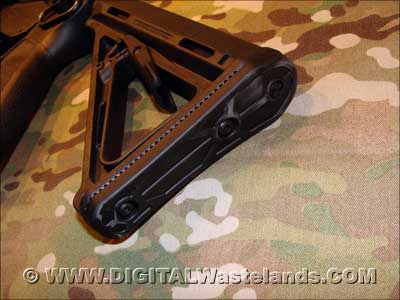 Magpul - MOE Stock - Included Rubber Butt Pad
The fit was nice a tight on a Tokyo Marui Buffer Tube. So really no need for the friction lock of the CTR stock on this specific installation. The stock locks firmly in each position and has very positive fit to the buffer tube.
Last Updated on Wednesday, 24 November 2010 13:21