Tokyo Marui - MP5-J w/ Sword Fish Mod
Written by ORCA
{simplegrade:4}
Manufacturer: Tokyo Marui (Japan)
Type: AEG (Automatic Electric Gun)
Date Acquired: 10/2008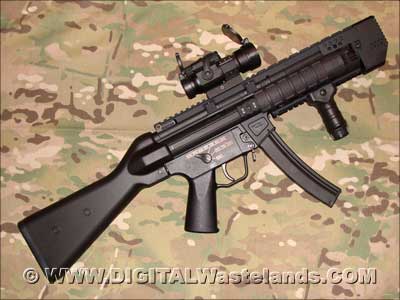 Tokyo Marui - MP5-J -Swordfish Mod
Parts included are:
Tokyo Marui - MP5J

Nitro.Vo - MP5 Top Rail

First Factory - Swordfish Front end for MP5s
Classic Army - MP5 R.I.S.
Classic Army - MP5 Full Rear Stock
Tango Down - BGV-QD Stubby Vertical Grip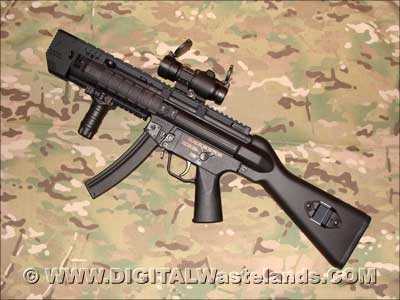 Tokyo Marui - MP5-J -Swordfish Mod
Original MP5-J info below.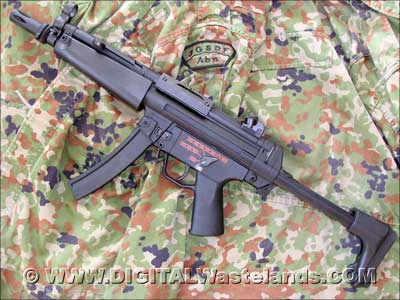 Tokyo Marui - MP5-J

Regular visitors may have noticed, I'm a late adopter of MP5 goodness. I just happened upon a hard to find Nitro/Vo MP5 Rail sleeve recently though and my MP5K Sword Devil needed a counterpart.
More details to follow. I picked the MP5-J mostly due to having the burst trigger markings. Which should set this soon to be Swordfish mod apart from others. Stay tuned.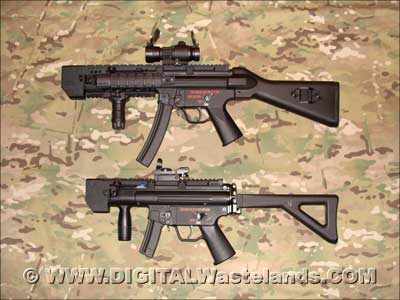 Tokyo Marui - MP5 Sword* Family
Last Updated on Tuesday, 02 June 2009 07:04