Written by ORCA
COMBAT Magazine
Language: Japanese
Print Frequency: Monthly
Avg. Page Count: 200 - 260 pages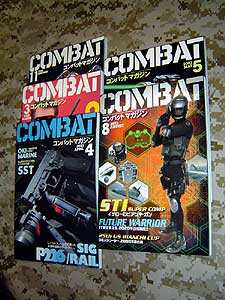 COMBAT Magazine

Japan has some of the strictest gun control laws going back to the US occupation of Japan after WWII. This did not take into account model or replica guns nor the Japanese appetite for weapons technologies and thus the Airsoft industry was developed, grown, shrank and grown again thanks to the globalization of the Internet. There are still Japanese laws that prohibit the export of replica weaponry directly to the US (Watch out for Websites that claim to sell direct from Japan), so large Airsoft companies like Tokyo Marui, KSC, etc. are very Japanese centric in their marketing. Thus the reason there a few monthly Airsoft related magazines, each publishing over 200 pages a piece per month.

COMBAT Magazine is one of 2 most distributed Japanese airsoft magazines. COMBAT focuses on "REAL STEEL" weapons in relation to the Airsoft counterparts. Typically each issue will start out with a multipage review of a "Real Steel" or Military weapon or technology. Some Real Steel/Military reviews have included:

AMP DSR-1 Modular Sniper Rifle System .338 Lapua Magnum
JGSDF (Japanese Ground Self Defense Force) CQB Training
Barreta CX-4 Storm (Pistol based Carbine rifle)
M4 Sniper
SIG P226/Rail
Small Arms of the U.S. Marine Corps
Aimpoint Lasers and LAM
US Shot Show Review (About 50 pages of pics)
STI Super Comp
"Future Warrior" A look into the next gen of weapons and gear

Usually there's always a few pages devoted to the JGSDF (Japanese Army) excercises and tactics. Then it will go into the new Airsoft developments and in alot of cases relate that directly with a Real Steel counterpart. There are also articels on mil/sim video games and always a section devoted to action movies (that use alot of guns).

There are of course Airsoft and Model gun reviews. In most cases guns are reviewed in this magazine 1-2 months before they go retail. (hehe this isn't the case of the TOP Mp40, which has had a few reviews and still isn't available for retail).

There are also reviews of Airsoft Shops, Airsoft Recycle Shops (Used Airsoft) and trick 3rd party upgrade houses like Fortress (Fortress was the first shop to jam an AK gearbox into the M249).

Of course to fill the 200+ pages are hundreds of pages of ads by Airsoft Manufacturers, Retailers, ,Airsoft Garage Shops, Military Surplus and Uniform Reproduction Dealers. Typically a full color ad from a large Airsoft manufacturer will indicate when a new gun will be released. As you know the detail Japanese Airsoft goes into, combat gear and uniform reproduction are just as accurately detailed (I purchased USMC Jungle Marpat almost 2 years ago, before it was available to our Marines, and an M44 WW2 Field Jacket Repro).

COMBAT is a magazine for the true Gun Freak, be it Airsoft or Real Steel. It's very "No Nonsense" in it's approach and reviews are based on fact.

I hope to have the time to Highlight translate and post different issues and articles I run across.
Last Updated on Sunday, 30 August 2009 13:06