Written by ORCA
Manufacturer: Tokyo Marui (Japan)
Type: Recoil AEG (Automatic Electric Gun)
Date Acquired: 05/2009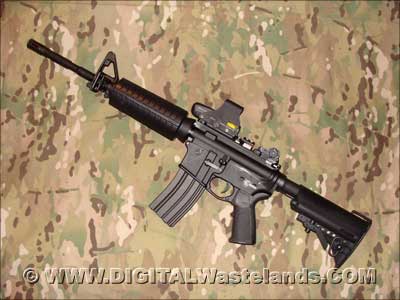 Tokyo Marui - M4 SOCOM
The Tokyo Marui - M4 SOCOM is the 2nd Recoil based M4 AEG by TM. These AEGS have both a cosmetic blowback and a system to physically replicate recoil. The recoil system gives these specific AEG's a unique firing sound and a the feel of firing recoil is hard to describe (See video below). The feel of the recoil system is definitely a plus.
The M4 SOCOM unlike the original SOPMOD, carries an 8.4 mini battery in the foregrip. Replacing the hand guards with Magpul MOE hand guards will enable the use of 9.6 mini's.
Magazines:
The TM M4 SOPMOD and M4 SOCOM use a completely different magazine system. These magazines are NOT compatible with Version 2 type Armalite style AEG's. They also cannot use the magazines from previous Armalite style AEG's. The Standard SOCOM magazine is selectable between 30 and 85 rounds. These standard magazines will cause the AEG to stop firing and lock the "bolt" when empty. It is really cool to hear, feel and see when you are out of bb's. The high capacity magazines for the SOCOM carry 430 rounds and do NOT lock back on empty magazine. I'm not a fan of highcaps, but these specific ones are nice in that they will expel almost all bb's when initially wound.
Add-Ons:
As you can see I've already added couple of accessories:
King Arms - VLTOR Mod Stock
ACM - VLTOR Low Profile Gas Block
Update 08/2009
I've been slow to update lots of things lately. One of AEX tech Gurus, Easy E, installed a stronger spring in my SOCOM. Now avg's 390 fps. The recoils seems to have gotten harder as well, but that maybe also due to the higher ROF from now running 9.6 nunchucks in the CASV.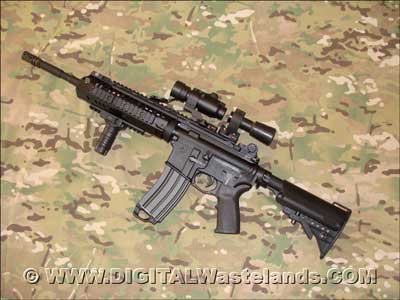 Tokyo Marui - M4 SOCOM - Larue Hendsholt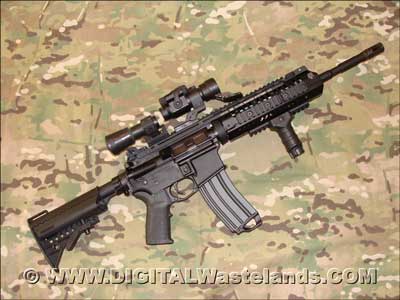 Tokyo Marui - M4 SOCOM - Larue Hendsholt
Chrono Results (FPS)
.20 BB's
Avg: 360fps
Last Updated on Thursday, 15 March 2012 08:10