Written by ORCA
Arms Magazine


Language: Japanese
Print Frequency: Monthly
Avg. Page Count: 250 - 300 pages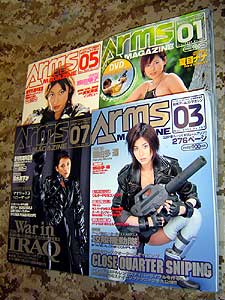 Arms Magazine (Missing Issues have all been "Borrowed" and never returned
)



Japan has some of the strictest gun control laws going back to the US occupation of Japan after WWII. This did not take into account model or replica guns nor the Japanese appetite for weapons technologies and thus the Airsoft industry was developed, grew, shrank and grown again thanks to the globalization of the Internet. There are still Japanese laws that prohibit the export of replica weaponry directly to the US (Watch out for Websites that claim to sell direct from Japan), so large Airsoft companies like Tokyo Marui, KSC, etc. are very Japanese centric in their marketing. Thus the reason there a few monthly Airsoft related magazines, each publishing over 200 pages a piece per month.



Arms Magazine is one of 2 most distributed Japanese airsoft magazines. Arms is published by Hobby Japan, famous for magazines devoted to things like Gundam Models. Arms focuses on Airsoft as a Hobby, Skirmishes, Anime, etc. This magazine is famous for it's cover girls/airsoft guns and have done some pretty weird things with this combination
Most issues have Centerfolds/Posters of the girls with some sort of gun in some sort of costume and a section of pictorials. Some of their main articles have included:

Game and Anime Toy Gun Guide

War in Iraq

Real Gun Shooting in Guam (Guns shot by a cute girl, DVD included)

Ghost in the Shell, Stand Alone Complex Weapons

CQS Close Quarters Sniping

Arms is devoted to people who play airsoft and reenact movies/tv/historical battles. The gun reviews are the same caliber as COMBAT magazine, but it's a much more light hearted view of Airsoft.

There are reviews of skirmish areas and specific tactics to use. There's even an on-going section of places to skirmish with a guy wearing a Luche Libre mask and goggles and his crew of misfits, going around and challenging the local at each skirmish site. Hella funny!

There are also reviews of Airsoft Shops, Airsoft Recycle Shops (Used Airsoft) and trick 3rd party upgrade houses like Fortress (Fortress was the first shop to jam an AK gearbox into the M249). Tons of "How To's" to modify your gun's appearance and performance and very interesting articles on the Garage Shops (Resin Kit and Metal shops) that make a stock AEG into a Sci Fi classic.

Of course to fill the 200+ pages are hundreds of pages of ads by Airsoft Manufacturers, Retailers, ,Airsoft Garage Shops, Military Surplus and Uniform Reproduction Dealers. Typically a full color ad from a large Airsoft manufacturer will indicate when a new gun will be released. As you know the detail Japanese Airsoft goes into, combat gear and uniform reproduction are just as accurately detailed (I purchased USMC Jungle Marpat almost 2 years ago, before it was available to our Marines, and an M44 WW2 Field Jacket Repro).

Arms is a magazine for the Airsoft Player and Collector. A very fun look at the world of airsoft.

I hope to have the time to Highlight translate and post different issues and articles I run across. Maybe I'll just post the Airsoft girlies pics...