Written by ORCA
Guns Digest 2004


Language: Japanese
Print Frequency: Annually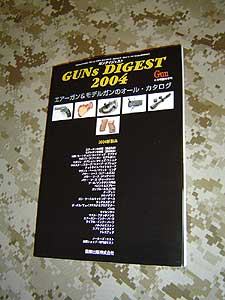 Guns Digest 2004



Guns Digest 2004 is the annual "Bible" of all things airsoft in Japan. It lists all Airsoft, Model/Replica, Blank Firing, Guns, Accessories and Upgrades. It also shows a few "How To's" but the bulk of the book is dedicated to listing of products and their specifications.

It's a great reference guide to what has been produced and even lists guns that have yet to be released but are due this year and prototypes have been sent to GUN Magazine. (i.e. for the last 2 years the specs on the TOP MP40 have been listed with release dates... haha).

So for the airsoft fanatic this is a gret book to score if you can.