VFC - MK13 MOD 0, EGLM Deluxe
Written by ORCA
Manufacturer: VFC (Taiwan)
Type: Grenade Launcher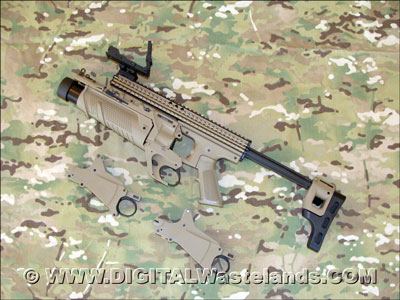 VFC - MK13 MOD 0, EGLM Deluxe

The VFC - MK13 MOD 0, EGLM Deluxe is a replica of the FN SCAR EGLM (Enhanced Grenade Launcher Module). This deluxe version from VFC includes the following:
Quad Railed, Extended Butt stock Chassis
Leaf sight
Stand alone Trigger Module
5.56 Trigger Module
7.62 Trigger Module
Let's get the bad news out of the way first. The VFC EGLM will NOT fit on a Classic Army SCAR. The CA SCAR's lower rail teeth do not match VFC's SCAR. We discovered this in 2008 when Star released their EGLM which works on VFC, but not CA. See here. Will be looking into finding a way to replace the CA SCAR's lower rail to be compatible.
The good news... Like the VFC's SCAR's beautiful anodized upper receiver, the EGLM has an anodized aluminum upper quad rail system.The included leaf sight uses a Larue style mount, which you may need to adjust for fitment.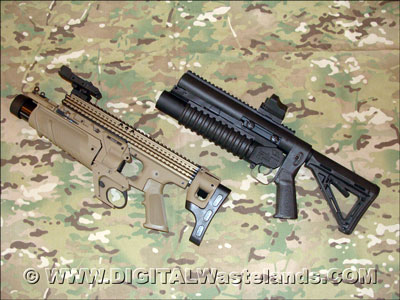 VFC - MK13 MOD 0, EGLM Deluxe and CA Short M203 RIS on EBB Launcher Frame
The trigger modules are easy to change out. They all utilize a single captive pin, so no worries in loosing parts.
The EGLM worked flawlessly with Mosquito Molds, Madbull, CA and G&P 40mm grenades. The launcher tube release is spring loaded with a very crisp action. The sliding butt stock is only 1 position.
Another possible problem for skirmishers is the tube is too short to launch Nerf Rockets.
Big thanks to Ting at Rhino Airsoft for taking special care on sending this order.
Update 09/18/2009
Did a side by side comparison of the VFC and CA SCARs, to see what the difference was on the lower hand guard rails. Rail wise they use a matching rail system and teeth spacing. But the CA lower rail system is mounted about .25" to front of where the VFC rail mounts. Thus causing the rail teeth to not line up. Only possible solution I have is to remove some rail teeth off the CA SCAR to make the VFC EGLM work properly.
Update 11/20/2009
Spartan Imports sent me down an extra lower rail for the CA SCAR-L. Even when I cut teeth off and shortened the length, the EGLM would still not fit like it should. You can mount the EGLM without the trigger modules though.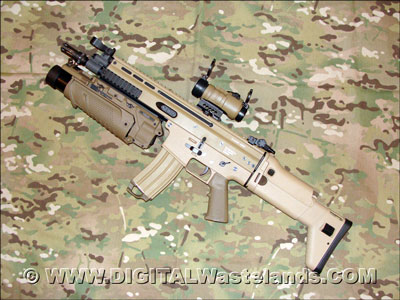 VFC - MK13 MOD 0, EGLM Mounted on CA SCAR-L w/o Trigger module.
Last Updated on Sunday, 13 December 2009 19:21