Airsoft Extreme - AEMax SR-47
Written by ORCA
Manufacturer: Airsoft Extreme (U.S.A.)
Type: AEG
This is a Custom Built Replica of the Knight's Armament SR47 built by Airsoft Extreme. I outfitted this one to replicate the AR-47 used by Packy in the Cat Shit One Animated Series (See Below).
The real SR-47 was built to enable the use of AK-47 magazine and 7.62x39 ammunition to be fired from an AR-15 type of platform. Of course the airsoft version is just for looks, since it's still firing 6mm bb's.
The build is comprised of the following parts:
The Hurricane SR-47 conversion kit was released a few years ago, and has since been discontinued. These SR-47's are getting harder to find.
Externally the build is a solid full metal build. Details and build quality are very good. Unfortunately, there is a long known issue with the magazine catch on the Hurricane SR-47 conversion kit. The magazine latch isn't the most positive in the locked position and by simply pushing the mag forward, may cause it to totally release. I've tested this with almost all brands of airsoft AK-47 magazines and have not run across a one to remedy this situation.
The Hurricane SR-47 conversion kit includes everything show below: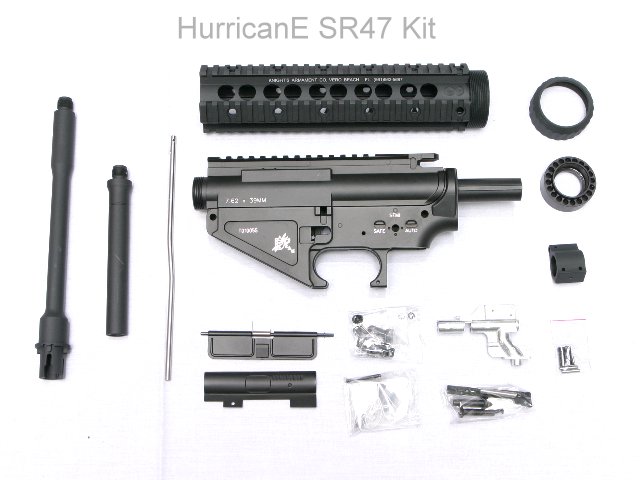 Last Updated on Thursday, 21 July 2011 15:51