Tokyo Marui - Night Warrior
Written by ORCA
Manufacturer: Tokyo Marui (Japan)
Type: Gas Blow Back
Date Acquired: 07/2010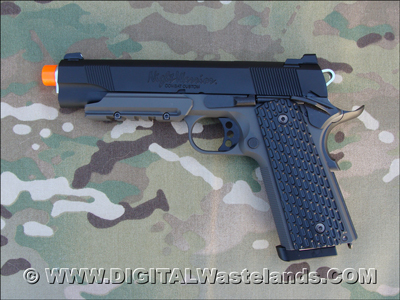 Tokyo Marui - Night Warrior

The Tokyo Marui , Night Warrior is part of TM's GBB Warrior Series. The Night Warrio is a Single Stack, 1911 frame similar to the TM M.E.U. but has the bolt on rail system of the TM Desert Warrior.
As with most TM GBB's, the Night Warrior is a high quality build and is a great performer straight out of the box. Handles Green Gas no problem. Most parts are TM 1911 compatible/interchangeable.
Chrono results (FPS)
Green Gas
.20 BB's
Avg. 334