G&P - CQB/R AEX Edition Package
Written by ORCA
Manufacturer: G&P (Hong Kong)
Type: AEG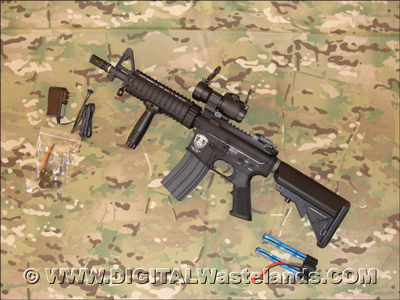 G&P - CQB/R AEX Edition Package
With the amount of M4 style, Type II gearbox AEG's in the market, what makes the G&P - CQB/R AEX Edition a standout from all the others? It's being sold as a unique package. We've all seen the Chinese Clone Bundles and Sportline Value packs, where Battery and Charger are included. But this G&P take it 1 step up from other Beginner packages. I would consider this package almost an Intermediate package, than something for Beginners. Most of the add-ons included are considered upgrades.
Package includes:
G&P - AEX Branded Metal Body
G&P - Jungle Series CQB/R (Free-Float) Kit(GP249)
G&P - M120 High Speed Motor (GP561)
G&P - 8mm Bearing Complete Gerabox Set (Back, Dean Connector) (GP857C)
G&P - 1 Piece, Metal Hop Up Unit (GP083)
G&P - M16 Magazine (130rds) (GP094)
G&P - Crane Stock Battery 7.2volt, 2300 Mah
G&P - Battery Charger with Deans Connector
G&P - Military Type 30mm Red Dot Sight (GP121)
G&P - Military 600m Flip Up Rear Sight (GP254)
G&P - RIS Vertical Fore Grip (Black) (GP033)
G&P - RIS Rail Cover (Black) x 2 (GP032B)
G&P - Deans Connector Wire Set For Recharge
Manual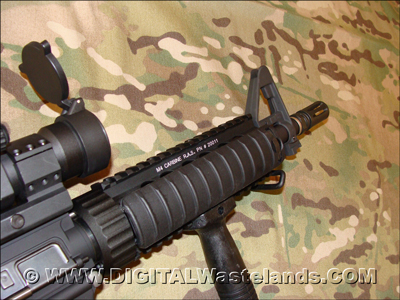 G&P - CQB/R AEX Edition Package
External Appearance and Feel
G&P has been long known as manufacturing some well built external parts. Visually all laser etchings look great with a good matte black base. Unique to this model is the AEX logo and related marking. The AEG weighs around 7.5 lbs with magazine and optics attached. Very solid feel with no rattling.
Internals
This AEG has an 8mm Bearing Based Gearbox, 1 piece Metal Hop-up, M120 High Speed motor and Low Resistance Wiring with Deans Connectors. The supplied 7.2volt Crane Battery fires as if it were an 8.4 volt battery on a standard Type II bushings based AEG. I actually didn't realize it was a 7.2 battery when first shot. I also shot with a 9.6 Nimh and the ROF was very fast.

FPS with .20 bbs was very consistent between 358fps - 360fps.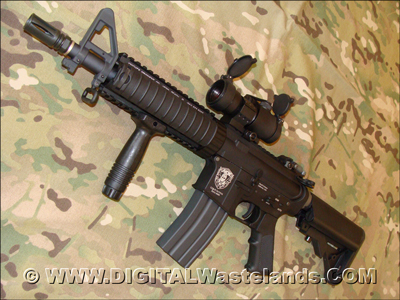 G&P - CQB/R AEX Edition Package As of 08/2010, the sell price for these is $320 at AEX. If you price out all the included G&P products separately, this price is a good deal if these are the types of add-ons you plan on installing.