Javelin Airsoft Works - M4A1 Carbine EBB
Written by ORCA
Manufacturer: Javelin Airsoft Works (China)
Type: AEG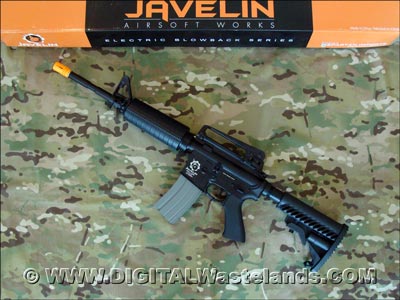 Javelin Airsoft Works - M4A1 Carbine EBB
Javelin Airsoft Works line of AEG's are all EBB (Electric Blow Back), meaning the fake bolt will cycle during firing. This simulates firing a real assault rifle. This series includes battery charger and high capacity magazine.
The metal body makes for a solid build. It has a nice weight without being overly heavy. The butt stock has a small storage compartment and mounting rail for lights/lasers or whatever.
This particular M4A1 chrono'd at around 370 fps with .20 bb's.
Features:
Individually Serial Numbered
Full Metal Body
Electric Blowback
Railed Stock includes storage for 2x CR123A Batteries
60 Day Warranty
Package includes: Gun, Magazine, Manual, Cleaning Rod, Battery, and Charger.
AEG Specifications
Method of Operation: Electric Blowback (EBB)
Fire Control Selection: Safe-Semi-Full Auto Selectable
Caliber: 6mm
Battery Type: 8.4V Mini Type Average
Velocity: 360-380 feet per second with 0.20g BBs
Cyclic Rate of Fire: 750-850 rounds per minute
Overall Length: 840mm
Weight: 2990g
Barrel Length: 363mm
Magazine Capacity: 300rd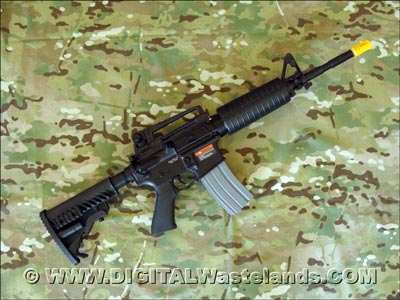 Javelin Airsoft Works - M4A1 Carbine EBB