Hooah Airsoft - M14 to Garand Conversion Kit
Written by ORCA
Manufacturer: Hooah Airsoft (USA)
Type: Conversion Kit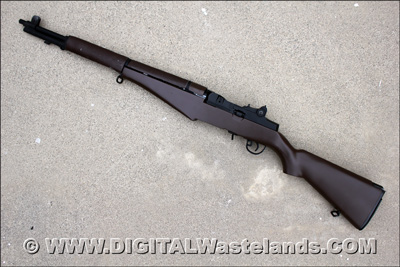 Hooah Airsoft - M14 to Garand Conversion Kit
The Hooah Airsoft - M14 to Garand Conversion is for Tokyo Marui and TM Clone M14's. I used an AGM M14 for this conversion.
This is not a "Ready to Fit" conversion kit. There are alot of modifications that need to be done to get this to work.
Kit Includes
Stock Augmentation Piece - Gives the lower stock a more Garand shape
Front Barrel and Gas Block assembly - Resin front site, locking lug, locking screw (single slot) and gas tube.
Upper and Lower hand Guards - Resin
14 Round Flush Mount Magazine/Clip. Although you only get about 10-11 rounds to fire.
What you'll need to supply
Tokyo Marui or TM Clone M14 AEG
Bondo - I used Bondo-Glass, which has fiberglass mixed with the Bondo
Sand Paper - Luckily I have electric orbital sanders, so it made that part of the job go faster.
Spray Paint - Rustoleum Dark Brown Satin matched the pieces supplied in the kit. I used a Matte Clear to top coat everything.
Adhesive Velcro - I used this to make body parts removable.
Time and Patience
Rather then break down each step it took and why, to get the conversion kit to the state you see it in took me about 5 days working on it about 1-2 hours a day. 1st part was bonding everything together and waiting for it to dry/cure. Then sanding and patching. Then more sanding, then primer, painting and waiting for it to dry. This is by no means a "Drop In" conversion.
So, why do this conversion rather then buy a gas Marushin Garand? It still keeps all the goodness and reliability of an AEG in operation. Internally it can be upgraded or repaired with TM compatible M14 parts.
The furniture supplied with the kit is all molded resin colored walnut brown. Earlier Hooah kits, had real Garand wood and metal parts, modified for use on the conversion. The resin pieces of the kit all need to be adjusted and fitted.
The flush magazines are actually modified China Clone Shotgun, 14 round mags. As a typical AEG goes, you don't feed 4-5 bb's at the end of the mag, so each mag only yield 9-10 shots, which would be close to the real 8 shot of a Garand. But these mags are a pain to remove since they sit far inside the magwell. I may experiment with adding a pull tab to the mags at a later date. But it can run normal M14 AEG mags as well, so you have options.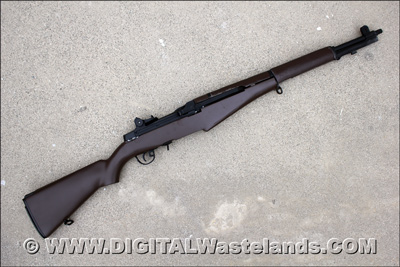 Hooah Airsoft - M14 to Garand Conversion Kit
Paint wise I just wanted to match the resin hand guards supplied with the kit. At a later date I may add a simulated wood grain, but I have a real M1 Garand for that.
Last Updated on Friday, 20 May 2011 19:15