Written by ORCA
Manufacturer: Emdom USA (USA)
Type: Tactical Gear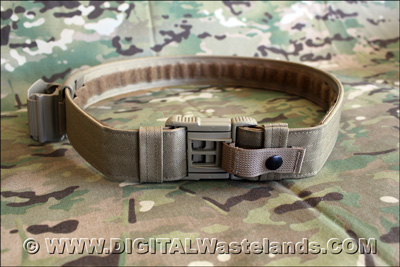 Emdom USA - CM Belt (Crye Gun Clip not included)
The Emdom USA - CM Belt is a collaborative design by MM of militarymorons.com and Emdom USA.
'CM' stands for 'Cingulum Militare', which is Latin for the military belt that the warriors of ancient Rome hung their sword and dagger from.

The CM belt is constructed of 1000 D mil-spec Cordura Nylon wrapped around a stiff HDPE insert which provides the necessary rigidity for load bearing without collapse. Inside the belt is 1" wide webbing lined with loop Velcro, bartacked at regular intervals to create mounting loops. The first three loops at each end/side are 2.5" wide. These loops fit and secure holsters, or subloads that use 2" or 1" attachments. The rest of the loops are 1.5" wide. Both the 2.5" and 1.5" loops are compatible with the Emdom Battle Suspender, MALICE Clips, ALICE and PALS pouches, preventing them from sliding along the belt. For pouches using Velcro wrap-around straps, the loop Velcro on the top of the 1.5" or 2.5" wide mounting loops will secure them in place.

The newly release ITW 2" Snap Dragon buckle (IR) is selected as the belt buckle for the CM belt. The buckle is super tough, and has a unique locking mechanism which prevents accidental opening in prone or under high stress situations, as it does not release when pressed in the front or sides like some other buckles. The buckle can be instantly released by pulling on the quick-release tab located at the female side of the buckle (see pictures). The quick release tab is made of 1" wide webbing with a female snap on the end. The female snap is neatly secured to the male snap located on one of the belt keeper loops.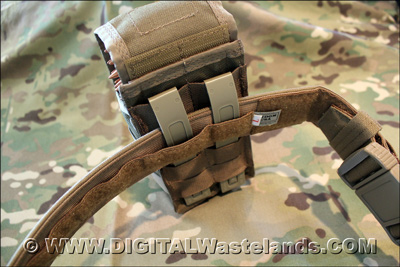 Emdom USA - CM Belt with OSOE Rallyman Pouch
I have a few other padded MOLLE type belts (Tactical Tailor and ATS), but I liked that the design of the Emdom CM where you can use MOLLE compatible ouches w/o bulking up on a padded system. The new ITW Buckle is very solid and will not accidentally open on heavy load.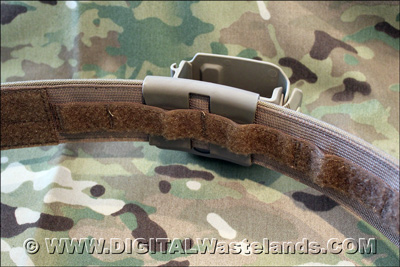 Emdom USA - CM Belt with Crye Gun Clip