Nike - SFB (Special Field Boot)
Written by ORCA
Manufacturer: Nike (USA)
Type: Tactical Footwear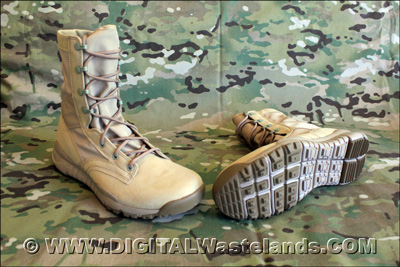 Nike - SFB (Special Field Boot)
The Nike - SFB (Special Field Boot) is Nike's version of a hot weather, combat boot. I own Oakley, OTB and Converse assault boots too, but the Nike's are the lightest weight and have the best ventilation of all of them. The insoles (see below) are just cool looking and have vents in the arch. The synthetic upper has the tongue sewed in all the way to the top of the boot. .
Unlike most other boots, the Nike SFB sole is very flexible. Typically with most combat style boots, your heel makes real positive contact as you walk. The SFB's entire sole moves and flexes with your foot as you walk. You feel very "light footed' in these compared to other boots.
Will report back on field durability soon.
Nike's propaganda:
The Nike Special Field Boot: Built for high-speed responders

A modern, athletic boot designed for first responders, the Nike Special Field Boot was engineered to the specifications of world-class heroes, from military professionals to rescue and law personnel. The result: the lightest, fastest-drying, highest-mobility performance boot Nike has ever made.

Benefits
Quick-drying synthetic leather overlays for durability and support
Multiple ventilation zones that allow the boot to breathe and drain quickly
Genuine leather footbed for durability, flexibility and comfort
Nike Free-inspired outsole, designed for traction and a natural range of motion
Sticky rubber forefoot lugs for exceptional traction on all terrain
Weighs 15.9 oz (men's size 9), about two-thirds the weight of traditional boots

Design
First responders are athletes in every sense of the word—but their moves are infinitely more vital. To meet their intense physical demands, the Nike SFB was built with the latest athletic footwear technology. Parts of the forefoot are puncture- and laceration-resistant, while the midsole is super-cushioned and extra flexible, ensuring a smooth heel-to-toe transition. The directional-traction outsole features reverse edges and a slightly raised heel for better grip when walking and running downhill.

Fit
Synthetic leather overlays make the Nike SFB tough yet bendy, requiring no break-in period. It's comfortable right out of the box. The sturdy outer shell creates a snug fit, protects against scuffing, and helps keep water out, while the anatomical sockliner moves easily with the foot and adds support and cushioning. A special lock-lace system helps keep the foot in place and maintain a comfortable, customized fit during extended wear.

Ventilation
The Nike Special Field Boot is made for hot weather. Breathable, quick-drying fibers work to keep the foot comfortable in warm conditions, and sweat-wicking materials help the boot dry out fast.

Origins
During World War II, Nike Co-Founder Bill Bowerman served as a member of the 10th Mountain Division in Italy. Upon his return, he became the head track and field coach at his alma mater, the University of Oregon. It was there that he honed a gift for creating high-performance footwear for his athletes. This boot is a realization of both of Bowerman's worlds.