AABB - T1 Red Green Dot Sight ( Sand )
Written by ORCA
Manufacturer: EB Airsoft (China)
Type: Red/Green Dot Sight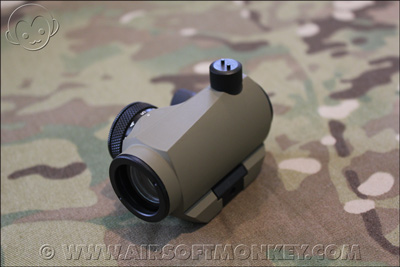 AABB - T1 Red Green Dot Sight ( Sand )
The AABB (aka X-Factor) T1 Red Green Dot Sight ( Sand ) is a clone of the Aimpoint Micro T-1. This version is a Red and Green dot version and each color has 5 intensity settings.
This nice part is this sight retails for around $55.00 and if you have a load out where you want a tan colored sight, this is a budget friendly solution.
The negatives of this sight are the power levels of the dots are low compared to other T-1 Clone sights. You will have a problem seeing the dot in direct sunlight in either color. The boy is painted sand, and the coating used isn't the best, but as mentioned before, weigh this against the low price.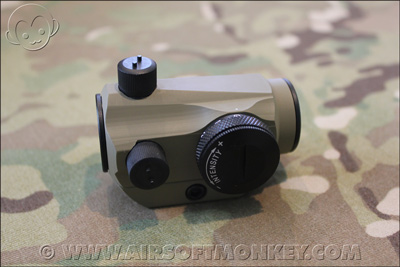 AABB T1 Red Green Dot Sight ( Sand )