G&P - Stoner U.S. Navy MK23 LMG
Written by ORCA
Manufacturer: G&P (Hong Kong)
Type: AEG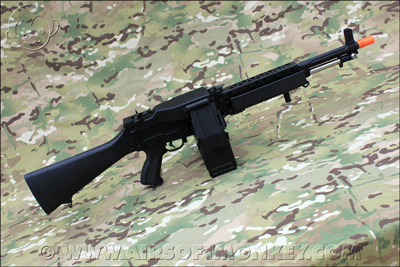 G&P - Stoner U.S. Navy MK23 LMG
The G&P - Stoner U.S. Navy MK23 LMG (Light Machine Gun) is a replica of the Stoner 63 LMG which was adopted by U.S. Navy SEAL units during the Vietnam war. For VN Airsoft fans, there's now an LMG alternative to the M60 with the smaller form factor Stoner.
The G&P airsoft version is an impressive replica in external and internal build quality. The body, outer barrel, heat shield, sights , magazine cage and trigger are metal and furniture is a polymer. The battery compartment is in the stock and it's setup to accepts Deans connector batteries. I've seen some retailers claiming a 9.6 large type battery will fit, but when putting an 8.4 large type, you feel it push out the inside of the polymer stock. Smaller format 9.6's and 8 cell stick batteries will fit though.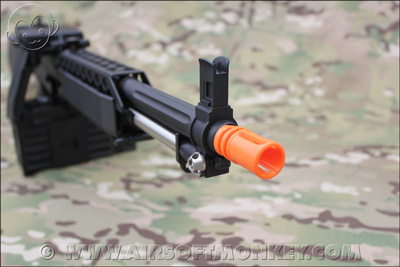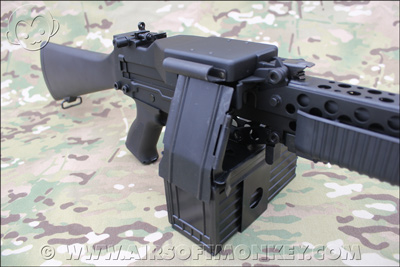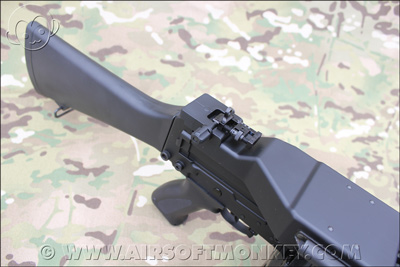 G&P - Stoner U.S. Navy MK23 LMG
Internally it's based on a Version 2 gearbox with 8mm bearings run by a G&P M120 High Speed motor. The box mag is electric and holds 1200 rounds. It's powered by a 9 volt battery, but the auto wind switch is integrated with the Stoners trigger. Holding down the trigger for a few seconds will start the auto winder in the box mag. The feed mechanism is unique and is a top feed. Unfortunately this means it will only work with this box mag.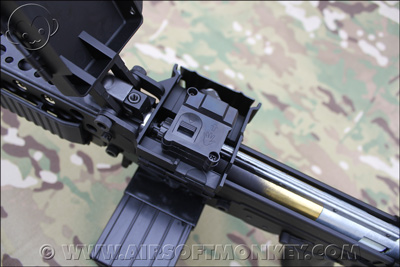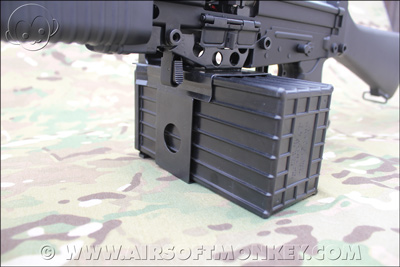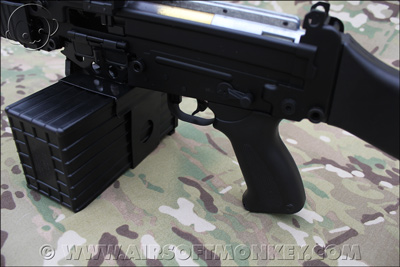 G&P - Stoner U.S. Navy MK23 LMG

Average fps with .20 bb's is 372- 379 fps

I scanned the included installation flier and parts diagram here.