Written by ORCA
Manufacturer: Contour (USA)
Type: POV Camera
The Contour HD Camera is a POV (Point of View) camera system that shoots digital video up to 1080p HD. We've had access to this camera for a while, but never really used it due to the rail mounting system (see below).
The camera is easy to operate. There is 1 button for power and a large slide on top that can be used with gloves to start/stop videoing. It has no internal memory, so you will need a Micro SD Card for video storage. The largest card it takes is a 32GB.
The camera itself is of good build quality. Water resistant aluminum housing. It includes a nice 2 dot laser designation system which will help you line up the camera and let you know what rotation the cameras set to.
The multi directional microphone is a little problematic and is susceptible to wind noise. The rail mount (sold separately) is all plastic and basically friction fits the camera. The camera has lots of movement when fitted to the mount and not sure why they designed it this way especially if mounted to a high recoil firearm.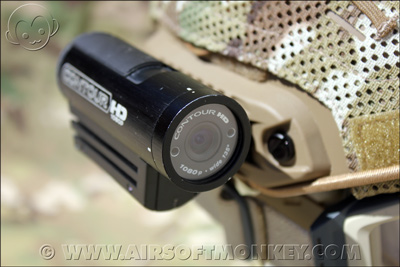 Contour HD Camera with Picatinny Rail Mount
Tech Specs:
Camera Optics

135°: 960p, 720p
110°: 1080p
Dual alignment lasers

Video

HD Video Resolution Modes:


FULL HD - 1080p 1920 x 1080 pixels 30 FPS
TALL HD - 960p 1280 x 960 pixels 30 FPS
ACTION HD - 720p 1280 x 720 pixels 60 FPS
ORIGINAL HD - 720p 1280 x 720 pixels 30 FPS
FAST SD - WVGA 848 x 480 pixels 60 FPS

5 Megapixel Sensor
H.264 Codec
.mov file type

Audio

Internal Microphone
AAC Audio Compression

Storage

Removable MicroSD Capacity: 32GB (2GB included)
Average Record Time

HD >> 30 min / GB
SD >> 60 min / GB

Power & Battery

Removable Lithium-Ion Battery
Record Time: Up to 2 hours
Battery Life: 2.5 - 3 hours
Charge via USB to computer or Contour chargers (sold separately)

Size & Weight

Dimensions (H x W x D): 53mm x 34mm x 95mm
Weight: 4.2oz (116g)