Modify - Hybrid Inner Barrel
Written by ORCA
Manufacturer: Modify (Taiwan)
Type: Inner Barrel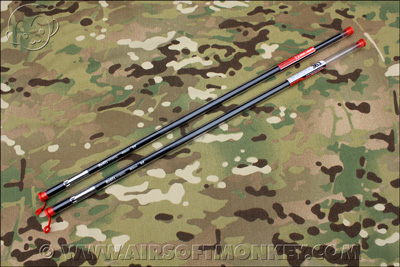 Modify - Hybrid Inner Barrel

Modify in Taiwan was nice enough to send me their new Hybrid Inner Barrel for review. This is a 6.03 diameter barrel and uses Stainless Steel for the hop-up hozzle and Aluminum for the majority length of the barrel. In the past, I've seen issues with all aluminum inner barrels "warping" which in most cases was due to the combination of the softer aluminum material and an AEG with outer barrel wobble.
The Modify - Hybrid Inner Barrel includes a hop bucking which will mate with the grooves machined into the Stainless Steel hozzle. It takes some serious wiggling to install the bucking, but once installed, it's set in place.
The business end of the barrel is machined to accept O-rings which will help center inner barrel for use with some outer barrels. The AEG I tested with has a G&P outer barrel and did not need the O-ring. The barrel crown is very well done.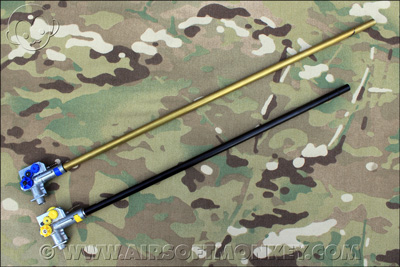 Modify - Hybrid Inner Barrel - Comparison vs. Tokyo Marui Stock Inner Barrel (455mm AK47 but cut down to 430mm)
Install into the hop-up unit was like most others. Go slow, so as not to tear the bucking. In this case i used a Classic Army hop-up unit, so didn't need to use included barrel shim.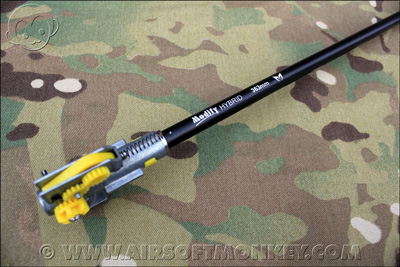 Modify - Hybrid Inner Barrel + Classic Army 1 Piece Metal Hop-up
Without a gun vice I believe all accuracy and grouping tests can be flawed. Below are FPS results which will give some raw velocity numbers for comparison. Used .20 Excel BB's
Modify - Hybrid Inner Barrel
Tokyo Marui Stock Inner Barrel

6.03mm Diameter
363mm
Avg FPS: 385

6.06mm +/- Diameter
430mm (Custom Cut AK47 455mm)
Avg FPS: 378
As you can see, the shorter Modify Hybrid Inner Barrel had higher FPS. This is not just due to the tighter diameter of the barrel, but the better seal of the bucking.
Last Updated on Friday, 26 August 2011 15:01